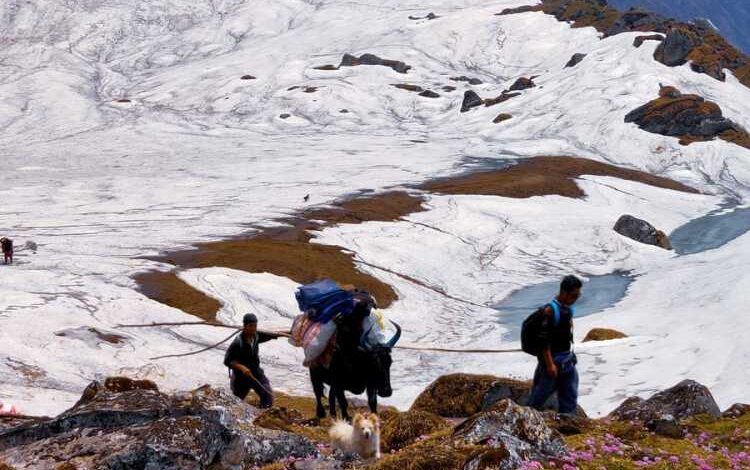 Annual summer migration to start for higher Himalayan villages
B.D.Kasniyal
Pithoragarh, April 14
Over 20000 residents of  more than 30 villages of high himalayan valleys of Johar, Darma and Vyans, have set for summer migration from lower valleys to their original homes in higher Himalayan region, from this week as the roads or track routes to the villages are being  repaired by concerned agencies on war footing these days.
"We have ordered the concerning road construction agencies, BRO, CPWD and state PWD, to repair the roads or track routes to their villages on war footing before the villagers set on summer migration to cultivate their summer crops," Pithoragarh District Magistrate Ashish Chauhan said.
"The villagers of Johar, Darma and Vyans valleys, situated at more than 2800 meters height in Dharchula and Munsiyari sub-divisions of the district, shift to lower valleys during winter months but return to their original homes during summer to cultivate high Himalayan crops, vegetables, pulses herbs and rear their sheep herds," said A.K. Shukla, SDM of Dharchula, where villagers of two valleys namely Darma and Vyans at Indo- china and Indo-Nepal borders do bi-annual migrations traditionally.
Sriram Singh Dharmashaktu, president of Malla Johar Vikash Samiti, an organisation committed to rehabilitate border villages of Johar valley says that  these days over 6000 villagers of 12 villages reach their original villages via summer migration every year.
"During six months stay in their native villages, the villagers involve in cultivation of herbs, high Himalayan cereals of Kuttu, Phaphar, local vegetables and herbs for their livelihood. After the traditional woollen trade has not been able to generate income for villages due to non-purchase of wool by government agencies, the villages have now started cultivating crops or started collecting "Yarsa Gumba", a    known as Himalayan 'Viagra',"said Dharmashaktu.
According to the tribal body president, several families, which are ell settled in big cities with lucrative government jobs, are not participating in the migrations  but  lower middle classes families are still return to their homes in summer every year.
"For poor people, besides collection of "Yarsa Gumba", jobs of labourers in under construction BRO road is another attraction of summer migration," said Dharmashaktu.
In Darma valley,  where over 5000 residents of 14 villages reach their original homes during summer,  has also witnessed falling dependence of tribal villagers on sheep rearing for wool production in last 10 years.
" As their is no one to purchase  the wool produced by shephards and government installed wool carding plant at Dharchula, is  under repair. The villagers have replaced their livelihood by collecting "Yasra Gumba" or herb cultivation ," said Ram Singh Phirmal, a villager from Philam village of Darma village.
According to Phirmal, he has not seen any one from these 14 villages, who totally depend on sheep  wool these days." The villagers now migrate to either take part in road construction work or collect "Yarsa Gumba," said Ram Singh Phirmal.
According to villagers the "Yarsa Gumba" sells at high  cost and gets priority over traditional works of cultivation of crops or herbs." This trend has started in past tewo decades  has resulted in big loss to traditional products  of tribal people," said Phirmal.
"Besides the Kirajari collection, new avenues of home stay tourism to Panchachuli base has also added in destruction of traditional economy of tribal people of high Himalayan region of this part,"said Shalu Datal, a social worker in Dharchula.
Sriram Singh Dharmashaktu, president of Malla Johar Vikas Samiti at Munsiyari says that if government actually wants to save tribal economy and rehabilitate border villages, it should come forward to purchase wool produced by tribal shepherds and give infrastructure facilities to these villages in summer." Besides purchasing surplus wool, the government should also generate electricity from local rivulets and provide facilities of transportion and communication in these border villages," said Dharmashaktu.