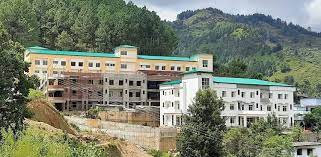 Pithoragarh medical college to start functioning from 2025
B.D.Kasniyal
Pithoragarh, Oct 18
The medical college at Pithoragarh will start functioning from  the year 2025, and application for admission in medical courses will be invited from next year, 2024, Dr Ashutosh Sayana, DIrector General, Medical Education,Uttarakhand  said here today
Dr Sayana, who was talking to reporters here today after inspecting the under construction medical college building said that the application for admission in medical colleges are generally invited a year earlier.
"The construction of medical college buildings at Chandak hill, began from May 20, this year with a sanction budget of Rs 362.27 crore."We have abundant budget with us to complete all infrastructural facilities for the proposed medical college in Pithoragarh. We hope remaining budget needs could be met by state government in next two years' state budget," said the DG,Medical Education.
The medical college in Pithoragarh was announced by the then Harish Rawat government in the state in the year 2014 with a budget announcement of Rs 500 crore."The medical college in Pithoragarh  was named after veteran Congress leader and Union minister Babu Jagjivan Ram.
"A total of 15 acres of land was acquired by state government for the purpose in later years and union government was requested to reduce the standard of land for medical colleges from 20 acres to 15 acres in the hill region due to less availability of land here," said Mahendra Singh Lunthi, a senior Congress leader in Pithoragarh.
The medical education DG said that the 200 bed hospital of Base Hospital, Pithoragarh will work as hospital of medical college after the medical college comes into full existence."We will later increase the number of beds in Base Hospital to 500," sid Dr Sayana
He further said that the required staff for Pithoragarh Base Hospital will be appointed soon." The Base Hospital will be well equipped with modern machines and specialised staff as it has to work as hospital of the proposed medical college," said Dr Sayana.