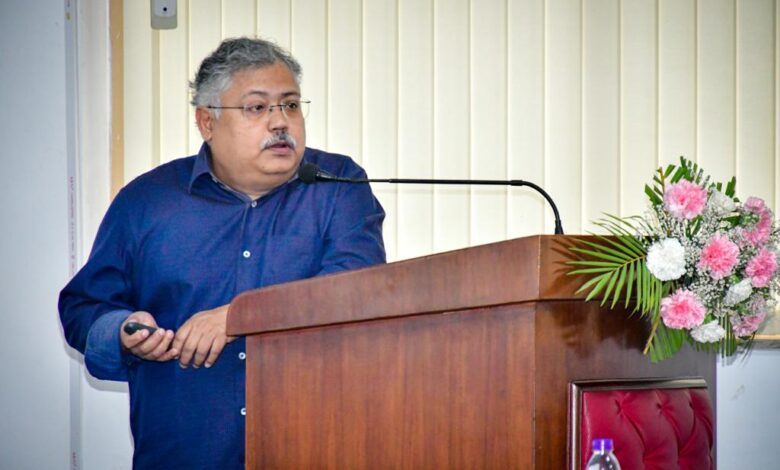 Preparation of 6G network is now a necessity.
 Dehradun. March 19
 Professor Ashutosh Dutt  of America's prestigious John Hopkins University and an expert in 5G networks said that 5G technology and its services are rapidly expanding worldwide and to accomplish this the infrastructure of the old 4G network should be put to use and the technology for the new network should also change. He further stated that in future we have to prepare ourselves for new 6G network after 5G. Professor Ashutosh Datta was the keynote speaker on the second day of the conference on 'Device Intelligence Computing and Communication Technology' organized at Graphic Era Deemed University, on Saturday. This address was given during his presentation on 5G technology.
Former Director of Motilal Nehru National Institute of Technology (MNNIT) Professor Rajeev Tripathi shed light on the working and principles of Wireless Mobile Communication (WMC).  Professor Sudesh Gupta, IIT Roorkee gave his presentation on FinFET, Nanosheet, Transistor and Moore's Application Law.
In the valedictory session of the conference, university's Professor (Dr.) Mohd. Irfanul Hasan, HOD, Department of Electronics and Communication Engineering, expressed hope that such conference will mark a new beginning and intiatives will be taken to manufacture devices in the country from an indigenous model to ensure artificial intelligence, communication and sustainable development. He further  said that such conferences are very important for experts and researchers to exchange technology and technical knowledge.
The Conference is being organised in collaboration of Department of Electronics and communication Engineering, Graphic Era Deemed to be university, along with U-COST, IEEE, SERB. In the conference, 610 research papers were received from eminent researchers of the world, including institutions from industry, Graphic Era University, IIT/NIT/IISc and industry institution, out  of which 150 research papers were registered for the conference and 127 quality research papers were presented by researchers through online and offline mode.
The conference was attended by Prof. Sukho Park, Prof. Ajit Kumar from Daegu Gyeongbuk Institute of Science and Technology, South Korea, Deans of various departments of the university, HODs and eminent experts from around the world . The conference was conducted by Dr. Mridul Gupta, Dr. Chandni Tiwari and Dr. Gaurav Verma.