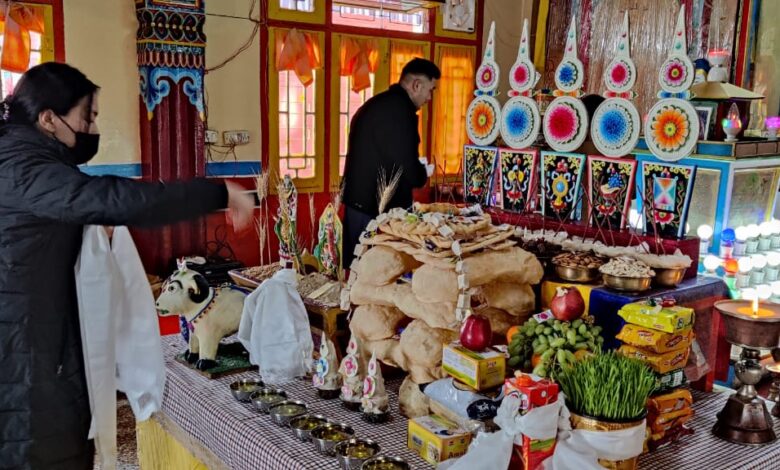 Tibetan community celebrates 'Losar' the Tibetan New Year with fervour
Ajay Ramola
Mussoorie, March 3
The Tibetan community in Mussoorie celebrated the lunar New Year "Losar" by offering prayers at the Buddha temple and tying prayer flags at Dalai hill in Mussoorie on Thursday.
The community gathered at the Buddha temple early in the morning and lit the ceremonial lamps and offered barley grains at the altar of the Buddha statue. This is the year of the Tiger according to the traditional Tibetan calendar.
The devotees turned the prayer wheels to seek blessing from the Holy Buddha and listened to the message delivered by His Holiness Dalai Lama online who congratulated and blessed the community and asked them to live in peace and with compassion with other fellow beings.
Inderpal Singh Kohli, State President of Bharat Tibet Sangh (BTS) extended greetings and wished the community members on the occasion and prayed for peace and harmony in the society.
He appealed to all to adhere to the message delivered by his holiness Dalai Lama the spiritual head of the Tibetan community.
His Holiness Dalai Lama in his message on the First day of 'Losar' talked about peace and tranquillity in the entire Universe. He was deeply saddened by the conflict in Ukraine.
He further said, "Our world has become so interdependent that violent conflict between two countries inevitably impacts the rest of the world. War is outdated – non-violence is the only way. We need to develop a sense of the oneness of humanity by considering other human beings as brothers and sisters. This is how we will build a more peaceful world."
'Problems and disagreements are best resolved through dialogue.' 'Genuine peace comes about through mutual understanding and respect for each other's well being. We must not lose hope. The 20th century was a century of war and bloodshed. The 21st century must be a century of dialogue."I pray that peace is swiftly restored in Ukraine," said His Holiness the Dalai Lama, added Kohli.
Sakya Rinpoche, Choengoen Rinpoche and Khandro Rinpoche also extended greetings and blessed to all on the occasion. Special delicacies were prepared and special prayers were offered on the occasion.
During the festival the Tibetan lamas chant prayers and pass torches through the crowd. The community food is also served on the occasion.
The Losar festival was also celebrated in Dehradun where monks offered prayers at the Buddha temple.
In Tibet, Losar is a 15-day New Year celebration observed by Tibetans. The festival's main events occur on the first three days which is followed by festivities on each day that ends on the 15th day with the Butter Lamp Festival.