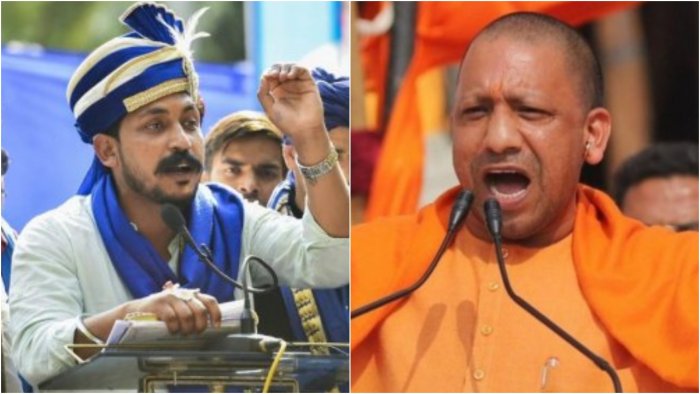 Yogi Adityanath's Fate on the Block
By Rashme Sehgal
New Delhi, March 3
UP Chief Minister Yogi Adityanath's electoral debut for the assembly election being fought from Gorakhpur Sadar has not been easy going as he finds himself pitted against several candidates.
The most charismatic of his rivals is none other than the charismatic Bhim Army chief Chandrashekhar Azad who has lost no opportunity to remind Adityanath during this campaign that he is not invincible. Azad claimed he was confident of doing a repeat of 1971 when the sitting UP Chief Minister Tribhuvan Narain Singh lost his elections from Gorakhpur's Manipur seat.
Yogi Adityanath has been an MP from Gorakhpur five times between 1994 to 2014 but he had then chosen not to fight in the 2017 state Assembly elections, and opted to be elected to the UP Legislative Council. This time round he is visibly nervous and has been holding one road show after another much to the mirth of the Gorakhpur residents who had been at the receiving end of his imperious behavior during his Chief Ministership. There are any number of snide remarks being exchanged when they witness their supplicant `Babaji' seeking their votes out.
Chandrashekhar Azad is hoping to tap  the large segment of SC and OBC voters who are unhappy at the treatment being meted out to them during Yogi's five year tenure and are confident they will gravitate to him.
 Azad is  hoping to do a repeat of Delhi Chief Minister Arvind Kejriwal who propelled himself onto the national scene after contesting against Narendra Modi in the 2014 national elections from the Varanasi  parliamentary constituency. Kejriwal succeeded in getting two lakh votes.
Azad highlights how the BJP won by very narrow margins in the last assembly elections right across the  Puravanchal belt but this time the `tide is flowing against them'.
The SP has fielded late BJP Upendra Dutt Shukla's widow Shubhawati Shukla against Yogi Adityanath in Gorakhpur.  SP leader Akhilesh Yadav who has been parked in Gorakhpur for the last three days ( as has Yogi Adityanath) is confident Shubhawati Shukla will be the catalyst in garnering  the anti-Thakur voters including the Brahmin votes but that seems a tall order.
While there seems little doubt that Yogi Adityanath will win his seat, the key question facing him as is the BJP is just how many seats his party can wrest in the other Gorakhpur assembly segments and across eastern UP in order to reinforce his claim to become Chief Minister  for the second time around.
Aflatoon, a political activist from this belt, believes, `This will not be easy. There is a strong anti-incumbency against him. Voters are scared  and therefore are not speaking their minds but there is a strong mood against the BJP,' he believes.
 ` Eastern UP has a 50 per cent OBC population and a 17 per cent Muslim population. With Akhilesh Yadav having stitched together a rainbow alliance of caste leaders from smaller parties, the voters are going to do very strategic voting this time around but they will do so in a quiet and subdued  manner,' Aflatoon added.
Dr Sunil Sahasrabuddhe, a sociologist by training and a member of the kisan think tank for Purvanchal, points out that the key to a BJP defeat lies in this region.
 `Our activists emphasise how the BJP has been an anti farmer party. We do not tell the public which party to vote for, rather we present facts and figures that emphasise why they should not vote for the ruling party,' Sahasrabuddhe added.
The penultimate stage of the long drawn out battle for UP  is now approaching. While there are 111 seats up for grabs in the Purvanchal region, voting for 57 of these seats will place today deciding the fate of heavy weights such as SP's Swami Prasad Maurya from Fazilnagar  and Congress president Ajay Kumar Lallu who is hoping to achieve a hat trick from the Tamkuhi Raj seat.
The districts that are casting their votes on Thursday are Ambedkar Nagar, Balrampur, Siddharthnagar, Basti, Sant Kabir Nagar, Maharajganj, Gorakhpur, Kushinagar, Deoria, and Ballia.
One of the most colourful personalities to lend some glamour to the electoral mahoul is Kajal Nishad, a popular Bhojpuri film and TV actress who has been  fielded by the SP from Campierganj.
The actress, who has worked in TV serials like Chameli, Lapataganj, and Ishq Ka Rang Safed defected from the Congress and joined the SP party  last year. She has been pitted against sitting MLA and former BJP minister Fateh Bahadur Singh but is confident of winning because Nishads, Yadavs and Sainthwars comprise a significant portion of the OBC population here.
`Our Nishad community have become much more politically savvy and will provide the key swing factor in at least 8 to 10 constituencies in Purvanchal,' she claims.
  Another tough contest is being faced by SBSP chief Om Prakash Rajbhar in the Zahoorabad constituency locked against BJP's Kalicharan Rajbhar  who had  contested earlier assembly elections on a BSP ticket. The BSP candidate this time around is Saiyyada Fatima who is no pushover and is giving both the Rajbhar's a run for their money.
 Infact most of the elections in this eastern region are triangular contests. This contest in the assembly segment in Ghazipur district is particularly interesting because all three candidates – Rajbhars and Fatima- have changed their political affiliations  and each is confident of swinging the vote bank in their favour.
Several analysts had believed  BSP leader Mayawati was out of the contest but she has chosen her candidates with a great deal of care and people now  believe contests here will go right down to the wire.
Campaigning in this phase has seen political parties launch an all-out attack on each other starting with the prime minister Modi who accused BJP rivals of being `ghor pariwarvadis' staunch dynasts and who were responsible for UP being in such a mess.
Congress Priyanka Gandhi rebutted the BJP wondering why her family was always being targeted while Akhilesh Yadav  has repeatedly accused the Modi sarkar of  rising inflation, selling all the assets of the government and not addressing the growing problem os unemployment.
The young people definitely seemed to have moved in favour of the Samajwadi Party. While the key campaigning in Gorakhpur has been against the backdrop of the Gorakhnath temple close to the banks of the River Rapti, several mahants feel this politicization of what the temple has traditionally stood for goes against their core teachings.
Prof Waheeduddin, who taught economics at Kashi Vidyapeeth University summed up the current situation aptly when he said, ` Nai hawa hai, nai fiza hai'. When people wanted to remove Indira Gandhi after the Emergency, they did so. Today, they want to remove the BJP. They will do so quietly because they remain fearful of the incumbent sarkar.'