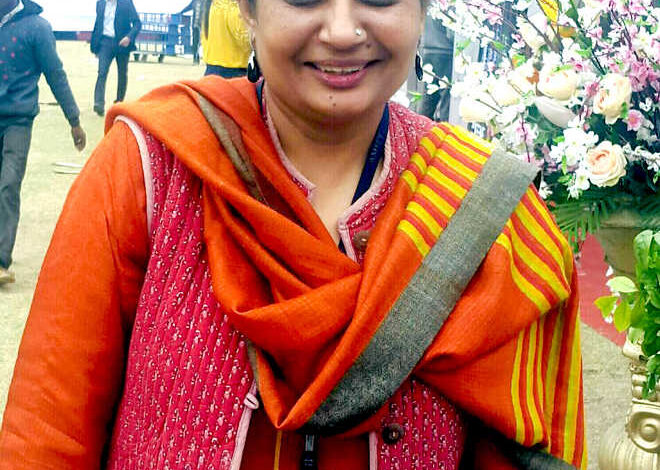 Who would be the next CM of Uttarakhand ? Can the state get its' first woman CM?
B.D.Kasniyal
Pithoragarh, March 19
Amidst speculations over the name of the next Chief Minister of Uttarakhand, the ruling BJP which won a massive mandate in the recently concluded state assembly elections, has called a meeting of its' newly elected legislators on March 20 to elect a new leader. Two senior party leaders who have been tasked to be onservers of the meeting namely Defence Minister Rajnath Singh and Meenakshi Lekhi will also be arriving in Dehradun on Sunday.
Uttarakhand BJP chief Madan Kaushik said that all the legislators are expected to reach Dehradun by March 20 after the Holi festival. He further said that preparations are also on for a grand swearing in ceremony of the new Chief Minister in which Prime Minister Narendra Modi and Union Home Minister Amit Shah along with other senior party leaders are expected to participate.
However, the question of who will be the next Chief Minister has baffled the rank and file of the ruling BJP. Hectic lobbying by various aspirants with the party high command and RSS leaders has been going on for the  past one week. According to party insiders, the names of various aspirants including that of outgoing chief minister Pushkar Singh Dhami has been going the rounds with others. While the BJP won a mandate by winning 47 seats out of total 70 seats in the Uttarakhand assembly, Chief Minister Pushkar Singh Dhami himself lost elections from his Khatima assembly segment in kumoan division putting him in a disadvantageous position. Being a protégé of Maharashtra Governor and senior BJP leader Bhagat Singh Koshiyari, Pushkar Singh Dhami who himself belong to RSS has been amongst the front runners. Bhagat Singh Koshiyari has also reached New Delhi on Friday probably to add weight to his claims.
However, the duo of Prime Minister Narendra Modi and Home Minister Amit Shah, who would be taking a final call on the issue are known to be springing surprises. Along with Pushkar Singh Dhami some other leaders including party legislator Ritu Khanduri, daughter of former Chief Minister Maj. Gen. B.C.Khanduri (retd) is also believed to be in the race with some other legislators and party MPs. Ritu Khanduri won from Kotdwar assembly seat which his father lost in the 2012 assembly polls to lose power by one seat.
" The observers Rajnath Singh and Meenakshi Lekhi, would be meeting the party legislators in Dehradun to arrive at a decision, " said Ajay Bhatt, Union Minister of state for defence and a senior party leader from Kumoan division.
According to Bhatt, after the observers reach state, they will talk to each elected BJP leader in camera and there after announce the leader of the BJP legislature party.
Asked if the elected BJP MLAs advice is contrary to that of party high command, Bhatt said in such a situation , the observers will give priority to elected MLAs. BJP has a tradition to respect the elected representatives," said Bhatt.
Asked if outgoing Chief Minister Pushkar Singh Dhami has edge over others in the run up to the BJP legislature party meeting, Bhatt said that in past party has given priority to elected representative over those who lost elections.
" In Himachal Pradesh in 2017 elections Prem Kumar Dhumal, the Chief ministerial face lost the election while the party won a majority. The party high command preferred Jayram Thakur over Dhuman as Chief Minister since Jayram thakur was an elected MLA," said the union minister.
According to senior BJP leaders, the party wants to give chance to young leaders who could take the party ahead in the coming years.
"BJP won the state only because it remained grounded and the strategy of the  party has paid dividends. This time also party will set new trends while electing leader of state legislative assembly," claimed Bishan Singh Chufal, a six time winner of Didihat assembly seat and a former state BJP Chief.
According to chufal several speculations are rife aMong people on the face of uttarakhand chef minister But no one is able even speculate about the face."BJP is such a disciplined party that  if there are several aspirants, all will respect the selection by observers as all party workers and leaders are for party for for themselves."said Chufal.
Another party leader in the condition of anonymity said that besides party's chief spokesperson  and Rajya Sabha MP Anil Baluni, several other names like those of Satpal Maharaj, Ajay Bhatt, Dhan Singh Rawat are in circulation. While electing the Chief Minister the party will also keep in mind the leader who could be beneficial for the party in the 2024 Lok Sabha elections," said Chufal.