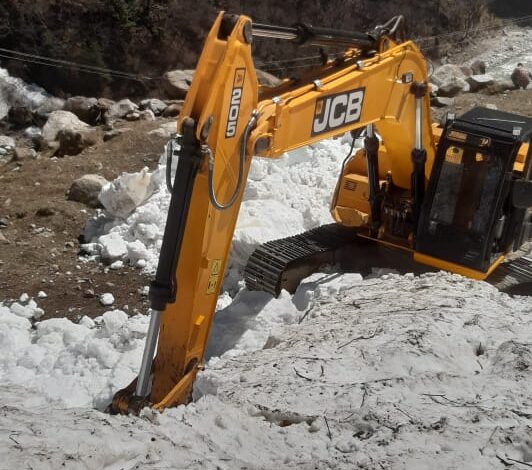 Snow clearing operations start for villagers migrating to their summer abodes in higher Himalayan villages
B.D.Kasniyal
Pithoragarh, March 22
To clear snow and debris from the roads to facilitate annual summer migration of tribal villagers, in high Himalayan valleys of Johar, Darma,  and Vyans in Pithoragarh district of Uttarakhand, Central Public works department (CPWD),   State Public Works Department (PWD) and Border Roads Organisation (BRO) workers  have started removing snow from the roads  to high attitude villages.
The 47 km long portion of 70 km long road of Darma valley is being maintain by  CPWD. According to CPWD engineers, the  they have cleared the snow deposits and debris, up to 20 km from Sobla. On the remaining road portions of 47 km long road, at least 12 temporary glaciers slides are still covering the road. "The CPWD will clear the road of these glaciers till April 15, this year, claimed  Virendra Kumar, a CPWD engineer, involved in road clearing work in Darma valley of Munsiyari sub- division of Pithoragarh district.
According to the CPWD engineer, the 18 km long road from Tawaghat to Sobla, mantained by BRO, has been cleared for vehicular transportation."The villagers of lower part of Darma, can reach their villages while those residing in upper villages will be able to go to their high attitude villages only after April 15," said the engineer.
Amongst seven villages of Vyans valley which migrate during winter months, while BRO has cleared the road  of  snow from Gunji to Kalapani, the snow deposits are being removed from Gunji to Kuti road.
" We hope that the route to all seven villagesof Vyas valley will be cleared before April 15, when the summer migration to the valley villages begins, ."said Anju Rongkali, Gram pradhan of Rongkong village of Vyans valley.
Meanwhile, residents of Johar valley in Munsiyari sub-division have demanded from administration that it should arrange snow clearing operations on migration route to all seven  migrating villagesof Johar valley besides repairing the broken bridges on route to last village of valley, namely Milam, so that the summer migrating villagers could cross these tracks and bridge with their animals.
" The administration should  also speed up efforts to deposit rations for next six months at Burfu godown and arrange for emergency medical help for  villagers who would be living in these higher Himalayan villages for the next six months from April onwards till October," said Sriram Ssingh Dharmashaktu, president of Malla-Johar Vikash Samiti in Johar valley town of Munsiyari.