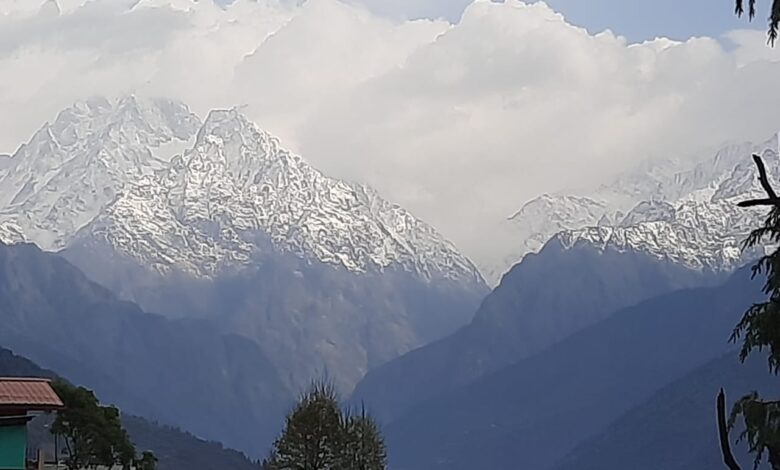 Snowfall at higher reaches and incessant rainfall for past three days disrupt normal life in Kumaon region
B.D.Kasniyal
Pithoragarh, Oct 10
Seasons' first heavy snowfall in the high altitude valleys of Johar, Darma and Vyans,of Pithoragarh district and incessant rainfall in the entire Kumaon region in the past three days has resulted into increase in cold and disturbed the normal life.
"Due  to continuous rains, and snowfall from last three days, we  are compelled to remain indoor as our animals are shivering in cold and our ripe crops have been destroyed," said Anju Ronkali, Gram pradhan  of high altitude situated  Rongkong village of Vyas valley in Dharchula sub- division of Pithoragarh district.
According to district administration officials, the security post at Indo- China border near Dave village of Darma valley is under four feet snow cover today. " Besides this 16000 feet high village, other villages of Darma valley, as Dugtu, Dantu, Son, Philm Goo, Bon  Baling Dhakar , Todane Marcha and Seepu are under 2 to 4 feet of snow cover today.Snowfall in Bundi, Gunji, Nabhi and Napalchu villages of Vyan valley have been reported, " said B.S. Mahar, District Disaster Management  Officer (DDMO), Pithoragarh.
According to Mahar, a total of 26 motor roads including 6 border roads, 17 villages roads and one National Highway are closed due to landslides and accumulation of debris. The Pithoragarh sub- division witnessed highest rainfall at 73 mm, followed by Begunah at 52 mm and Dharchula at 39 mm in last 72 hours," said the DDMO.
The supplies of essential goods to remote parts of the district also remain disrupted to closer of roads.  According to Mahar, due to closure of Pithoragarh to Tanakpur NH 9, the transportation of supplies from plains areas to this border district is stopped from last 3 days." This road is closed at Delhi bend due to heavy deposits of debris from last three days," said the DDMO.
Due to closure of Lipulekh to Ghatiabagar road at Malpa and Bundi,  essential supplies to border villages and security posts on the Indo-Cchina border are also disturbed.