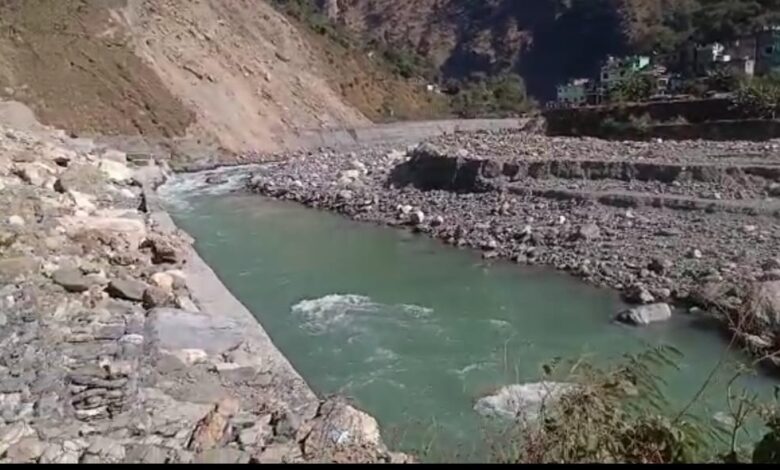 Protection wall along river Kali on Indo-Nepal border at Dharchula delayed
B.D.Kasniyal
Pithoragarh, Dec 2
The work to construct a protection wall along river Kali, on the Indo-Nepal border inside Indian territory at Dharchula, is not proceeding ahead as Nepalese authorities have refused to remove the debris dumped on their side of the river bank since last three months as per Indian officials.
The debris was dumped on  both the sides of the river after September 9, rains in  Nepal this year. It was due to heavy rains  in the catchment area of river Lasku in  Nepal that caused flooding leading to accumulation of heavy debris on both the banks of river Kali. While the Indian authorities have cleared the debris, Nepalese authorities are yet to do it.
Due to the debris, the flow of river has turned towards Indian side instead of water  flow which used to be before September 9, this year.
" This heavy deposit of debris is  causing disturbance in construction of protection  wall on the Indian side as due to debris inside Nepalese territory, the river is overflowing inside Indian territory resulting into lack of space for construction," said Divesh Shasni, joint magistrate and SDM of Dharchula.
According to Pithoragarh District Magistrate  Reena Joshi, when the issue was taken up with Nepalese authorities, they have suspect that if Nepal removes the debris, the flow of river Kali will be  towards Nepal and could destroy their infrastructure made at the bank of river.
"We have held first level of talks with Nepalese authorities and tried to assure them that the flow of river will be kept in control by Indian engineers while constructing the protection wall inside india. Soon, we will have second level of talks with them and a solution would be found," said  Reena Joshi, Pithoragarh DM.
According to Pithoragarh DM,  the Nepalese authorities had already constructed the protection wall along the river on their side to save themselves from floods during  monsoon floods.  " The protection wall on Indian side needed to constructed along river bank in Dharchula town to protect the town from floods during monsoon. It is essential as  the river flow could damage the lower part of Dharchula town due to flooding in the absence of protection wall ," said the DM.
According to local residents, if the protection wall could not be completed before June next year, the Dharchula town could witness havoc during next monsoon as the increased monsoon flow of river could damage the town on the Indian side." The administration should soon talk with Nepalese authorities to normalise the flow of river Kali before monsoon," said Nanda Bisht, a resident of Dharchula town.