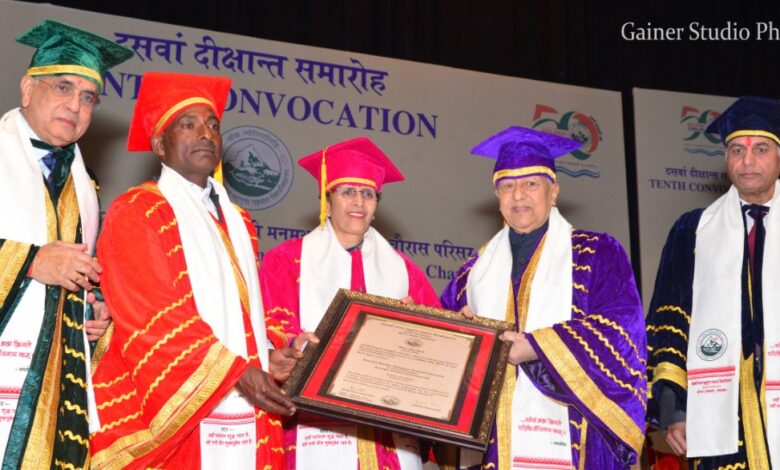 'Dhol' Maestro Sohan Lal presented honorary degree by HNB Garhwal University
Dehradun , Dec 2
The 10th Convocation of Hemvati Nandan Garhwal University, Srinagar Garhwal was held on Decmber 1, 2022. The University had made arrangements to live stream the programmes on various social media platforms, in order to give access to those, who could not attend it physically.
Dr. Rajiv Kumar, the former Vice- Chairman of Niti Aayog, Government of India and the founder Chairman of Pahle India Foundation was the chief guest, Chancellor, Dr. Yogendra Narain IAS (retd.) chaired the function. The highlight of the convocation was presentation of honorary degree 'Honoris Causa' to . Sohan Lal, a renowned Dhol maestro.
A total of 159 Ph.D., 4306 Post Graduates students were awarded degrees while 45 students received gold medals in various subjects.
In his welcome address , the Vice-Chancellor Professor Annapurna Nautiyal welcomed all the guests and participants and expressed her pleasure on awarding the 'Honoris Causa' to Sohan Lal for his great contribution in promoting the regional music played through drum known in native language
as 'Dhol'. She also acclaimed the achievement of Prof. D.R. Purohit, a faculty member in the department of Folk, and Performing Arts Centre, who has recently been selected for the prestigious National Sangeet Natak Academy Award in the domain of Folk Music and Theatre for 2021.
Listing out the achievements of the University, honourable Vice Chancellor said that the University has a total student strength of 13,315, out of which 87% are from Uttarakhand and 13% from other states. The University successfully implemented the New Education Policy and also participated in Central University Combined Entrance Examination (CUCET) for the first time as per the mandate of NEP. The language lab of the University will also be offering proficiency crash courses in Garhwali, Kumauni, English and German languages from this academic session.
The Vice Chancellor informed that in 2021 for the first time, the university was given the responsibility of conducting UPSC exams, which has proved an asset for the youth of this remotely located area in various ways.. The University also established Dr. Ambedkar Centre under the scheme of Ministry of Social Justice and Empowerment. Government of India, for providing free coaching to SC category aspirants for civil services examinations, is a very well-meaning initiative Chief Guest, Dr. Rajiv Kumar, a former Vice- Chairman of Niti Aayog in his address said that, learning should not and in any case does not stop with being a fulltime student- it should continue throughout one's life and faculty members become exemplars and role models for the students. He said that, India is on the cusp of major historical change that will take it inexorably forwards towards raising its share in the global economy to once again become commensurate with the share of our population in the world population- 17% and will become 19% by 2050. He claimed that India is facing the challenges of growing exponentially and also becoming greener exponentially.
He also emphasized the need to recognize that India has a unique past and indeed a unique set of current challenges but also a unique set of strengths. Dr.Rajiv Kumar said that now is the time to go all out and use them for serving the national cause and for achieving our ambitious goals.
Chancellor, Dr. Yogendra Narain IAS (retd.) in his address said that India has come a long way since its independence in 1947. He also emphasized the role of teachers in promoting this mission. He said that Indian economy need to grow at 8-10 percent rate to achieve a 5 trillion dollar economy and it is also important to generate employment opportunities in the process. He hailed the New Education policy for giving a scope to excel to each student in his/ her filed of interest and also said that it provides autonomy for the institutions. Concluding his speech he gave a call for all the teachers and students to play a key role and contribute in nation building. The ceremony concluded with the vote of thanks by the registrar.
Prof. R.C.Bhatt, Pro-Vice Chancellor, Dr.Ajay Kumar Khanduri , Registrar, Prof.M.M.Semwal, Convener, media cell Prof.Y.P.Raiwani, Convener, 10 th Convocation, students, teachers and non-teaching staff were present in the ceremony.