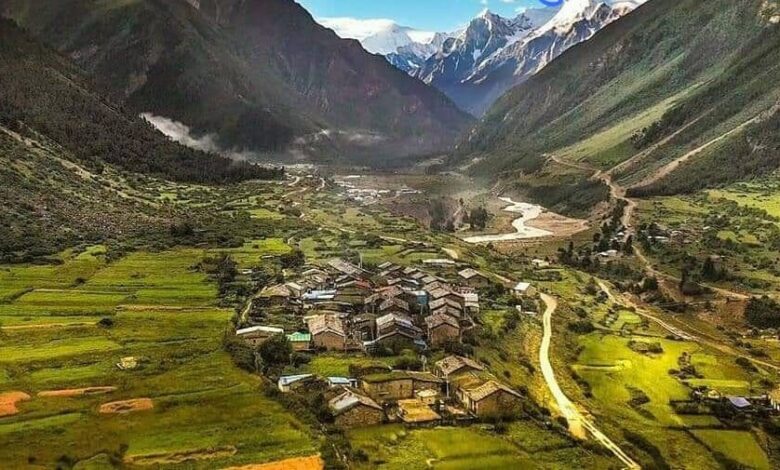 Making Indo-China border village Gunji as vibrant village to check migration
B.D.Kasniyal
Pithoragarh, April 15
To launch the vibrant village scheme of the union government from border village of  Gunji, situated at a height of 10500 feet on the Indo-China border in Pithoragarh district of Uttarakhand, Union Commerce Minister Piyush Goyal is reaching the village on Sunday, April 16th.
"The minister will reach Gunji at 10.45 am and after ceremonial welcome by local women will take part in  cultural and religious programs. He will also meet the officers of Army, ITBP and SSB by evening. On April 17, the minister will have a glimpse of 'Om Parvat' at Nabhi Dhang and Kali Mata at Kalapani. The minister will leave for Naini Saini Airport at 11.30 am on the same day," said Reena Joshi, District Magistrate, Pithoragarh.
The Vibrant village scheme, meant to check migration from border villages at Indo-china border by providing basic infrastructure and job facilities.
Union Home Minister Amit Shah had launched the scheme from Kibithu village of Arunachal Pradesh a week ago."The scheme will cover over 2967 villages of 46 blocks at Indo- China border states. The scheme involves Rs 4800 crore budget including Rs 2500 crore only to improve road infra at these border villages," Shah had said.
"Gunji, was once an old market of Indo-Tibet trade before 1962 Indo-China war  and  involved  seven villages of Vyans valley as well as the Nepalese villages of Tinkar and Changru. With the end of wool trade, the importance of Gunji gradually faded out after 1962," said  Jeewan Singh Ronkali, president of Bharat Cheen Vyapar Samiti at Dharchula.
Despite been a village from where villagers migrate every winter, over 150 families stay there even during winter as they get employment from Border Roads Organisation (BRO) round the year." This has become possible after BRO has connected the last border post by road three years ago," said Priyanka Gunjiyal, a Block Development Committee (BDC) member from Gunji village.
To make Gunji a vibrant village in the coming days , the district administration has sent a proposal worth Rs 56.58 crore to the central government."Upon sanctioning of the budget, we have plans to develop trek routes towards Himalayan heights, from Gunji, to construct a tourist home and  high tech toilets for tourists, besides an Indoor stadium for army and 25 home stay facilities," said Reena Joshi, District Magistrate, Pithoragarh.
To provide employment to local villagers, besides from tourist activities, the scheme involves motivating and helping villagers to grow quality variety of apples, sea buck thorn plants and give emphasis on developing  traditional wollen handicrafts produced by tribal women at home." We will also make a museum, named as Kailash museum that will depict local culture before tourists," said the DM.
To initiate the Vibrant village concept at Gunji, former District Magistrate of Pithoragarh Aashish Chauhan has organised a by-cycle rally and river rafting in Kuti Yangti river, for the first time at Gunji.
"The main problem of Gunji is lack of drinking water, health and medical facilities round the year. If these issues are resolved the people of all seven adjoining villages of Gunji, would be able to earn and live round the year making Vyans valley villages as vibrant villages at border," said Suresh Singh, Gram Pradhan of Gunji.