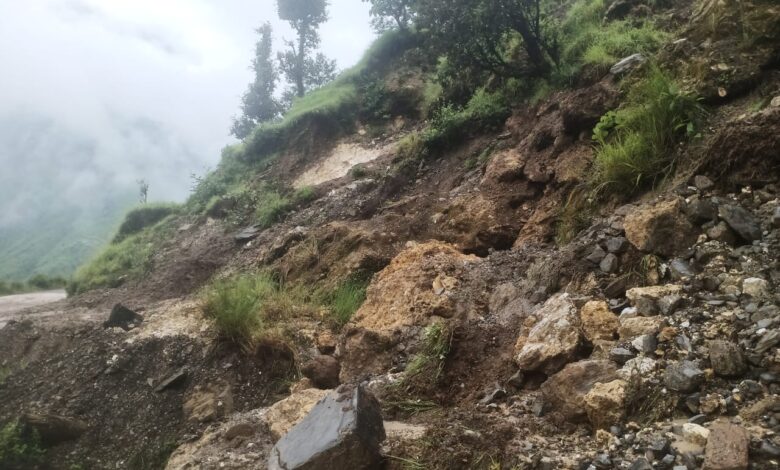 Tourism badly hit due to closure of road to Munsiyari
B.D.Kasniyal
Pithoragarh, Aug 26
Tourism business in the Himalayan town of Munsiyari in Pithoragarh district of Uttarakhand has been hard hit by the frequent closure of the main link road to the town from Thal to Munsiyari
"In 2022,  a total of 2000 tourists from all over country reached Munsiyari in the month of August, while only 200 tourists reached this year in August till date due to frequent closure of roads to this Himalayan town," said  Puran Pandey,
The road is still closed from last 13 days, as the construction agency could not remove boulders at Vanik point where the transportation had been halted due to landslide.
Jagdish Rawat, president of Hotel Association in Munsiyari, said that the closure of road is affecting some 3000 persons, who earn their livelihood from tourist trade in the town.
" Besides the hotel owners, taxi owners, tourists guides, restaurant owners, and producers of local souvenir goods, local traders of vegetables and pulses are also affected due to road closure ,"said Jagdish Rawat.
According to Raju Pangti, president of Traders Union, Munsiyari, the trade in the town has been badly affected as it depends on tourists." Not only shopkeepers but the building contractors and labourers involved in this work have also been affected as no building material has reached Munsiyari in last 13 days regularly and the road had closed off and on during the past two months of rainy season ,"said Raju Pangti.
According to sources over 15000 people, including pregnant women, sick old persons are also affected by this road closure as they are unable to reach district headquarter for treatment." The road, first closes at Ratigar ,thereafter at Haradiya and now at Vanik during the period affecting the road traffic and tourist inflow as during this time of the year tourists used to visit the town to view Panchchuli Himalayas," said Jagdish Rawat.