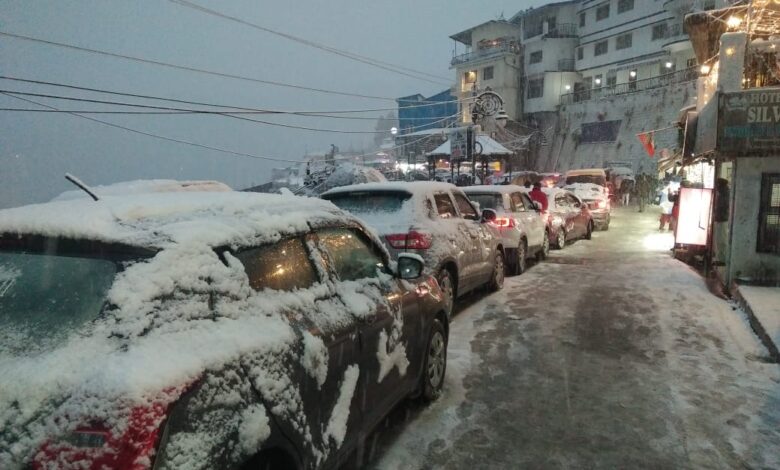 Crumbling infrastructure of the town results in traffic jam as Mussoorie experiences record snow fall
Ajay Ramola
Mussoorie, Feb 4
Mussoorie, Dhanaulti and higher reaches of Garhwal received record-breaking snowfall putting normal life out of gear on Friday. The mad rush of tourists resulted in a traffic jam on Mall Road and local administration struggled to manage the traffic.
Thousands of tourists, men, women and children are stuck up in Mussoorie due to heavy snowfall. Many of the tourists were worried about their safety and that of their kin stranded in cars.
The heavy snowfall also brought cheers among tourists and residents alike as the snow has eluded the town of Mussoorie so far.
Long traffic jams were witnessed as most of the tourists from Dehradun, Saharanpur and Delhi rushed to Dhanaulti and other parts that were covered with a white mantle.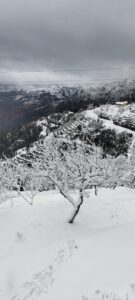 Salma a tourist from Meerut, said watching snowflakes fall from the sky covering the town in a white blanket was magical.
Tourists, who reached Mall Road, were stuck on the mall road due to slippery conditions and were left stranded for several hours.
At Dhanaulti the power lines and water supply was disrupted due to damage to the supply lines forcing the resident to burn firewood to obtain water for daily chores.
The roads leading to Dhanaulti remained jammed with vehicles though these had become slippery and dangerous for driving. The police stopped the tourists at Jay pee bend from heading towards Dhanaulti due to road blockage that was triggered by heavy snow. Several vehicles were rendered out of order as due to the burning of clutch plates under slippery conditions.
Jabbar Singh from Kandi village said, "We had come to Mussoorie to buy jewellery for sisters' marriage but now are unable to go back due to the traffic jam situation leaving us stranded at mal road near Library.
Heavy snowfall was also reported from Chakrata, New Tehri, Yamunotri, Nainital, Gangotri and other higher regions of Uttarakhand. Snowfall on the higher peaks of Nag Tibba and in the Jaunpur region also presented a panoramic view from Mussoorie. Also, intermittent rain in the plains led to a dip in the temperature with cold wave conditions forcing people to stay indoors.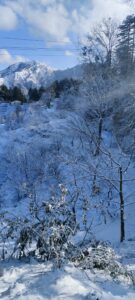 Meanwhile, the business community that had been facing a lean tourist season had much to cheer about. Besides shops, tea stalls also made a good profit.
However, the crumbling infrastructure of the town led to people parking their vehicles in erratic way making it difficult for the commuters on mall road.
SDM Mussoorie Naresh Durgapal said, "I have directed the CO Mussoorie to take the matters in her hand and expedite the smooth flow of traffic in Mussoorie