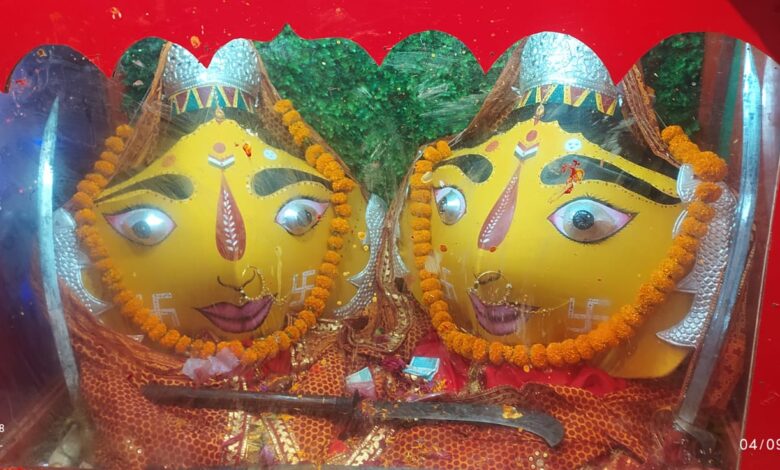 Nanda Devi festival starts in Kumoan region
B.D.Kasniyal
Pithoragarh, Sept 5
The five day 'Nanda-Sunanda' festival, one of the major festival of entire western part of Kumaon region including Johar valley has started with religious enthusiasm and fervour. The local deities of "Nanda and Sunanda" are worshipped by the people during the festival
These two deities are considered Goddesses of Himalayan region. Nanda is considered better half of Himalayan god Lord Shiva.
"In Almora, where the Nanda Devi worship started in the 16th century when one of the Kumaon kings established Nanda statue at Mallamaha after taking the deity from Garhwal region. The mass worship of goddess started after getting the status of Goddess of Chand kingdom," said Navin Bisht, a Kumaon cultural expert and journalist in Almora.
According to Bisht, the Nanda festival in Almora begins from 'Shukla Paksh Ekadesi' in the Hindu calendar  month of 'Bhadrapad' when the preparation in Nanda Devi temple starts.
" Thereafter the people visit to banana trees to invite these plants to take part in Nanda worship of the year. After banana plants are invited, statues of Nanda and Sunanda are made of banana leaves," said Bisht.
After establishing the statues at Nanda Devi temple, people worship Nanda and Sunanda on 'Asthami' day." The worship is done according to 'Tantrik' method for which special priests are invited from Devidura," said Bisht.
After daylong worship on' Ashtami' day , cultural programs are held on 'Navami' and idols of deities are immersed on the tenth day known as 'Dashmi' after been taken round the entire town of Almora in a procession.
Nainital, Ranikhet, Champawat  and Munsiyari are other places where Nanda festival is celebrated  with mass participation." While eastern part of Kumaon region worship Nanda as 'Gaura', the western part worships it as 'Nanda- Sunanda'. She is considered as daughters of Himalaya and married to Lord Shiva. She visits her parents in the month of 'Bhadrapad' and villagers gather to send her off after her visit in a ceremonial way," said Navin Bisht.
In Munsiyari  and Didihat, the Nanda Devi festival was organised at Danadhar village temple of Nanda devi, where people gathered in traditional costumes and musical instruments to worship the deity." We have also planned  to organise programmes on Kumaoni culture during five day long Nanda festival this year," said Dushyant Singh Pangti, organiser of Nanda festival  in Didihat.