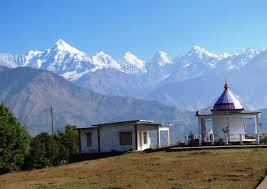 Helicopter service to Malla Johar valley of Munsiyari from today
B.D.Kasniyal
Pithoragarh, Sept 5
All 13 villages of Johar valley at Indo-China border in sub- division of Munsiyari of Pithoragarh district , will get helicopter services from September 5, this year as uttarakhand government has given its' approval.
"The helicopter service from Government inter College (GIC), Munsiyari helipad to villages of Malla Johar(Upper region of Johar valley) will begin from September 5, and will be operational on two days  in a week- Monday and Tuesday," said Bhagat Singh Phonia, Sub-Divisional Magistrate (SDM) of Munsiyari.
According to Phonia,  one side fair per passenger will be Rs. 3100 from Munsiyari or return from the migration villages." The Disaster affected, ill, old citizens and pregnant women will be given priority in the service, in case the weather is not good enough to carry on the service, the fair money will be returned," said the SDM. The registration for the service has already started in Munsiyari sub- division from September 2.
Pithoragarh District Magistrate Ashish Chauhan said that the state government took a decision on the long pending demand of the people of Munsiyari." This service will give emergency service to people of all 13 villages of Malla Johar valley, who remain in their high altitude villages for six months from May till October, " said the DM.