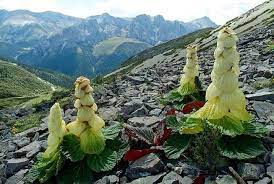 Himalayan flora & fauna facing extinction threat from foreign species
B.D.Kasniyal
Pithoragarh, Nov 17
Effects of changing weather patterns due to global warming has started affecting plants and local species of Himalayan region, as over 436 herbs and plants species in the region are facing extinction, according to scientists  at GB Pant Institute of Environment and Development, Almora.
"The changing weather conditions in Himalayan region, are gradually going to suit foreign species of plants to grow and are becoming hostile towards the local plants, due to which some 436 highly sensitive local plants have shown symptoms of extinction and therefore needs preservation," said Dr I.D. Bhatt, a scientist at the institution
According to Bhatt, the matter came into knowledge after scientists from the Institution and some officers of Indian Forest Service (IFS), exchanged finding of their studies at a recent seminar.
The scientists of GB Pant Institute said that Himalayan region alone has over 8000 plants species out of which over 436 species have started showing symptoms of extinction due to non-favorable weather conditions.
" Some foreign species that have made inroads into Himalayan region have also contributed to extinction of local species. These foreign species included, Lantana, ageratum species, Gazar ghas (parthenium hysterophorus)  and Kala basa(barleria prionitis) . These foreign species need to be eliminated from Himalayan region to save local species," said Dr Bhatt.