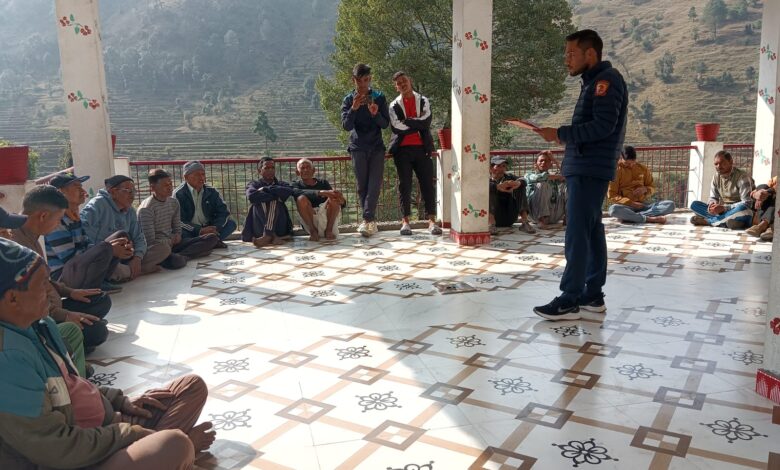 Villagers decide to construct incomplete road themselves
B.D. Kasniyal
Pithoragarh, Nov 18
The villagers of three villages of Dhanaula sera, Bazar,and Punet of Ganai area, situated at the border of Pithoragarh and Bageshwar districts, have taken up the initiative themselves to construct a three kilo meter long motor road that has been left unconstructed by Public Works Department (PWD) as part of 20 km long on the plea of non- availability of funds.
The three km long road, villagers have planned to construct, is from Dhanaulasera Golu mandir in Pithoragarh district  to Phatehpur village of Bageshwar district.
The villagers said that the construction of road will be done according to the earlier survey done by PWD.
"We have hired JCB machines, labourers and deposited a sum of Rs 2 lakh for the purpose and have also set the date of November 25 for the start of the voluntary work with "Bhumi Pujan'," said Saurav Singh, a villager of Dhaunaula Sera, and organiser of the move.
According to Saurav Singh, the road is part of 15 km long Bankot- Phatehpur road  and has been left three km back from tail. "Due to lack of three km long road, over 1500 population of three villages of Dhanaula sera, Bazar and Punet, had to go to district headquarter Pithoragarh travelling long distances via Bageshwar district," said Saurav Singh.
The villagers have said that if the move to link the road will not get assistance from state government, they will bycott the Lok Sabha polls in 2024." We have invited Chief Minister and two MLAs of Gangolihat and Kapkot for 'Bhumi Pujan', expecting help from them to complete the construction of the road," said Saurav Singh.