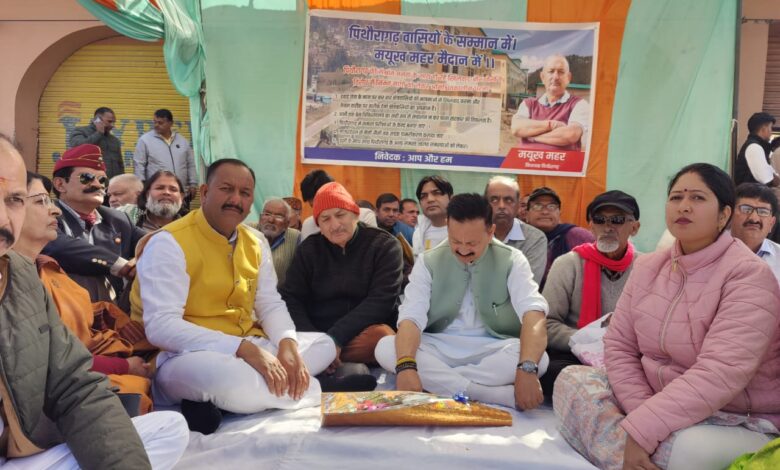 Pithoragarh Congress agitation ends in a fiasco
B.D.Kasniyal
Pithoragarh, Nov 16
The much touted agitation by Pithoragarh Congress MLA, Mayukh Mahar, demanding written assurance from Uttarakhand Chief Minister on four local demands  turned damp squib and came to an end on the verbal assurance by the state government to fulfil the demands before January 26, next year.
"We are suspending the agitation on assurance of Uttarakhand Chief Minister that he is son of the soi, originally  hailing from Pithoragarh district and these problems are his own problems for that he will fulfil these by taking personal interest," said Mayukh Mahar ,the Congress MLA.
The agitation, in form of Dharna, near district collectorate, was started on October 30, demanding regular civic flights from Pithoragarh, appointment of medical staff in Base Hospital, establishing of UPSC examination centre in Pithoragarh and some other local demands .The agitation was suspended for Diwali festival and was slated to be resumed from November 15.
The agitation that was being hyped as an attempt by the Congress party to show unity and commitment to take on a power ruling Bhartiya Janata Party (BJP) ahead of the crucial Lok Sabha elections of 2024 in Kumaon region came a cropper.
"Had  the agitation forced the Chief Minister to give it in writing, it would have given Congress party an edge to create an atmosphere in it's favor  before Lok Sabha election, " L.L.verma, a retired teacher of political science.
Congress leader Mahendra Lunthi said that the Congress held a meeting to thank the Chief Minister on his assurance on which the agitation was suspended.
"if the Chief Minister does not prove true on his assurance, the Congress party will resume the agitation by beating drums in front of the residences of senior BJP leaders," claimed  Lunthi.
The agitation had got momentum and senior Congress leaders including state Congress president Karan Mahara had joined it." It looked that the Congress would make it state wide against the mis- governance of ruling BJP reflecting the sentiments of the people creating a favorable atmosphere for Congress before Lok Sabha election but it ended in a fiasco," said Verma.
The BJP leaders today held a press conference saying that Chief Minister Pushkar Singh Dhami is taking special interest in starting air services from Pithoragarh as he had been trying to solve the objections raised by Director General of Civil Aviation (DGCA) and was in talks with Union Civil Aviation Minister to start flights from Pithoragarh.
"After installation of dialysis and CT scans machine in Base Hospital, Pithoragarh, the Chief Minister is trying to get financial sanction for 950 posts of the Base Hospital," said Suresh Joshi, BJP spokesman.