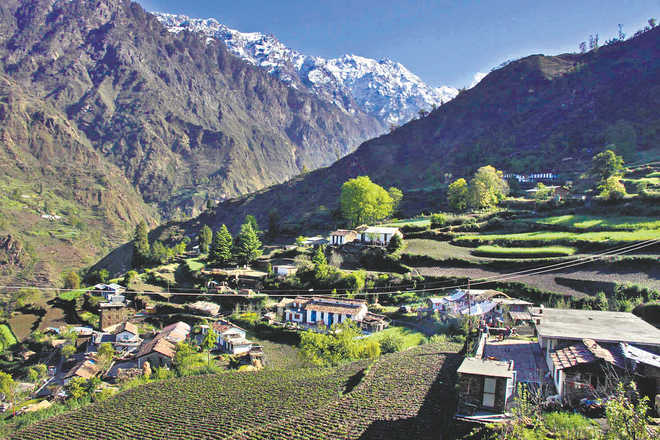 Tribals of high altitude situated villages demand repair of road for summer migration in Pithoragarh district
B.D.Kasniyal
Pithoragarh, March 12
The villagers hailing from all 14 high altitude villages situated in Darma valley, today met SDM Dharchula and demanded opening of the closed motor road up to the last high altitude village of Dugtu, so that the villagers could reach their summer homes. These villagers living in high altitude villages of Pithoragarh migrate to to lower valleys during harsh winter and return back during summer months.  The annual migration to their villages in high Himalayas start in the first week of April.
" We have intimated the district administration about the bad condition of the road in time this year as two persons had died during migration last year after being trapped in landslides. The road is damaged at several places from Tawaghat to Dhakar," said Dinesh Chalal, president of Diling-Darma Sewa samiti, a cultural body of tribal people of Darma valley.
According to Chalal, the delegation also demanded from administration that storage of diesel be made available beyond Sobla village, to enable the machines to run while working in the task of opening the road." We have also called a meeting of senior member of our organization on March 13, to discuss problems of health, road communication and ration supply during the six months stay of tribal villagers at their high altitude villages," said Prem Singh Nagnyal,  patron of Diling- Darma Sewa Samiti.
The delegation has informed the SDM, that the road to Darma valley is open up to  Burthing from Sobla at present, while it is closed at 20 km patch from Burthing upwards. "under the present circumstances,  it will be difficult for villagers to reach their villages with their animal herd," said Nagnyal.
The villagers of 14 tribal villages of Darma valley reside in their high attitude villages  for six months from May to October while return to their lower valley villages from October during winter months." During the six months of summer season, the villagers sow their crops, run home stay facilities for tourists and collect high himalayan medicinal herbs to run their livelihood, ." said Dinesh Chalal, the president of tribal cultural body.