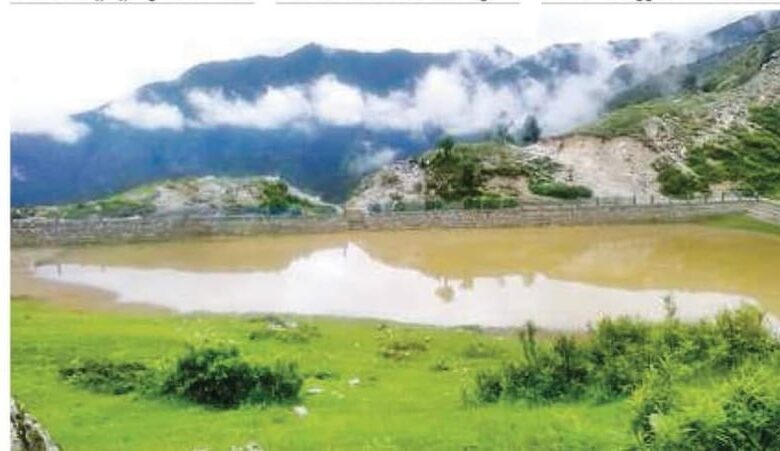 Sukunda Tal awaiting to get attention to develop as tourist destination
Prem Upadhaya
Bageshwar, March 16
Sukunda Tal, a lake located near Pothing village in Kapkot tehsil of Bageshwar district could be developed as a major tourist destination in the area. The place with state government and central government patronage could be a developed for tourism which in turn could give employment to the locals. Sukunda Tal, could be developed as a major attraction for tourists with its beauty, and panoramic view.
According to local folklore, it is believed that local deities come daily to take bath in this small lake. However, in the last few years, the water level in this lake has started decreasing. The Irrigation Department has prepared a proposal of Rs. 55 lakhs to preserve it. Uttarakhand Chief Minister had also announced  the beautification and protection of the  small lak . Sukunda Tal is situated about 5 km from Pothing village while 38 km from district headquarter Bageshwar.
Located at an altitude of about 5000 feet above sea level, Sukunda Tal has beautiful surrounding with lush green meadows and mountains peaks.
There has been a demand from time to time to develop Sukunda Tal as a tourist destination but due to official apathy not much attention was paid to the area. However, now there is an initiative to develop Sukunda Tal, which is known as Mini Switzerland, situated  at an equal height that of famous tourist resort of Kausani. The Irrigation Department has prepared a proposal for the preservation and upkeep of the small which would be sent to the state government soon.
"The importance of this project has increased due to inclusion in the announcement of the Chief Minister. After the formation of new government, the people of the area are hopeful that budget would be released and work start on the project," said J.S. Bisht, Executive Engineer, Irrigation Department, Kapkot.