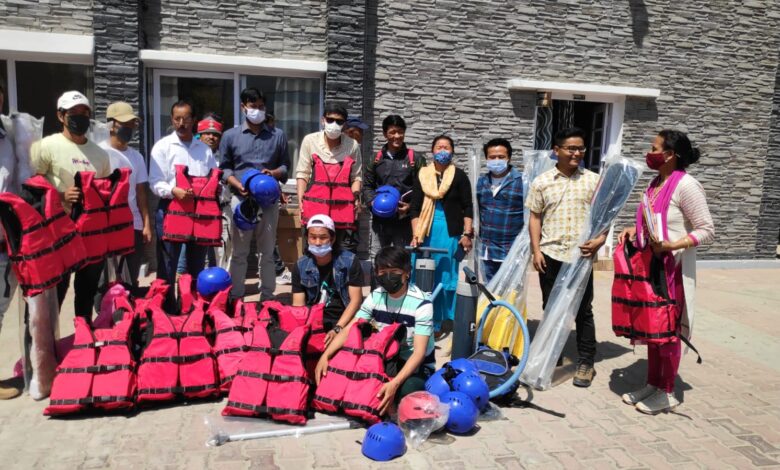 River rafting activities planned for village youth in Kuti Yangti river at Indo-China border
B.D.Kasniyal
Pithoragarh, April 5
To encourage adventure activities in border villages at the Indo-China border, with an intention to increase livelihood opportunities for village youth, Pithoragarh district administration is mulling holding river rafting activities at 11000 feet high, Kuti Yangti river, that flows in Vyans valley at Indo-China  border, Pithoragarh District Magistrate Ashish Chauhan said.
"I have sanctioned a sum of Rs.15 lakh from my discretion fund to youth of Gunji village, who have formed a club for adventure activities, named "Kuti Yangti club", the youth have purchased rafting equipments including 2 rafts and 3 kayaks for the purpose," said the DM.
According to DM, the rafting in river will be held during summer months which would also provide extra thrill to tourists visit Kailash Mansarovar and Chotta Kailash " After the motor road to Lipulekh pass has been commissioned last year, the possibilities of tourist activities in the remote border villages at Indo-China border has become possible." said the DM.
The District Tourist Officer has been assigned to give training to local youths of Vyans valley villages." We have intentions to involve all villages of Vyas valley in this activities," said the DM.
Rohit Singh Gunjiyal, president of Kuti Yangti Club said that after receiving river rafting kit from the District Magistrate, there is greater possibilities of youth staying in their respective villages on the border .
" We have formed a club involving youths from  all seven villages of Vyas valley.  After training from experts, we will start running adventure activities for tourists who visit Vyas valley, " said Rohit Singh Gunjiyal.