With fast melting glaciers, swollen river Gori threaten houses in Pithoragarh
B.D.Kasniyal
Pithoragarh, April 6
Nine families living in Talla Ghururi, a helmet of Mawani Dawani village of Bangapani sub-division of Pithoragarh district living on the banks of river Gori are again forced to live in tents leaving their hearths and homes as water level of the river has started rising due to melting of glaciers in the summers and the swollen river has started threatening their homes on the banks.
"We have come to district headquarter to appeal to the District Magistrate to either shift us permanently from the banks of the river or construct protection measures from the flooding water of river in the summer and monsoon periods," said Munni Devi, Gram pradhan of the village who today met Pithoragarh District Magistrate, Ashish Chauhan to make him aware the condition of the villagers.
"After all cow sheds, toilets and houses were swept away into  the flooding waves of river on June 19, 2021,  all nine  families have spent  whole monsoon month in tents, despite sanction of Rs 30 lakh for embankment  to protect their homes. Nothing was done for flood protection," alleged  Munni Devi.
Pithoragarh District Magistrate,Ashish Chauhan assured the delegation of villagers that immediate measures will be taken to build protective measures before monsoon this year.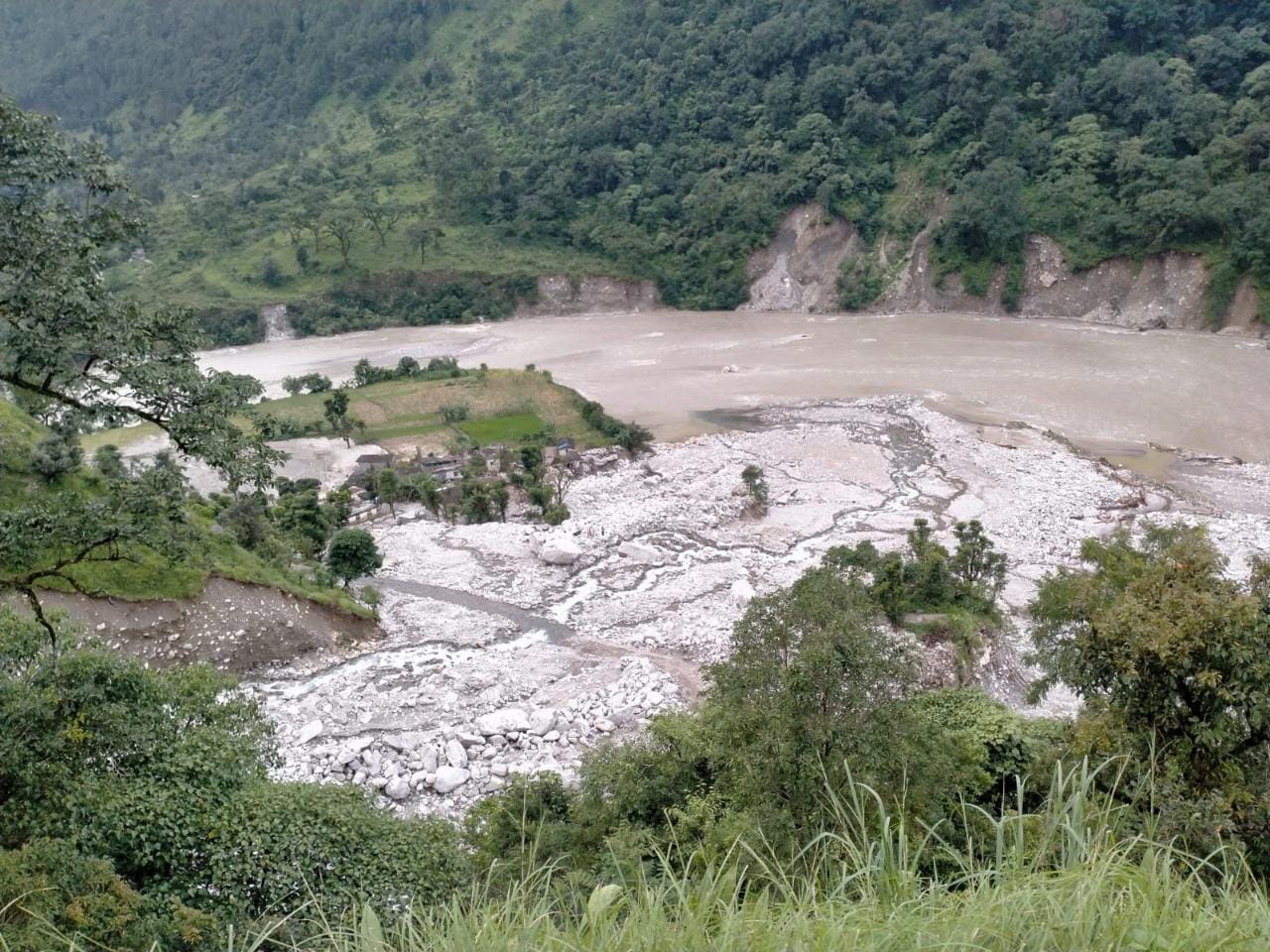 "I, have written to irrigation department to trace the sanctioned budget for the work and start utilising it with immediate effect, so that the houses of the villagers could  be saved from floods during summer and monsoon months," said the DM.
Gram pradhan Munni Devi said that besides these nine families, who have their houses close to river bank, over 25 families in Mankot village of same sub-division are also  living in tents after June 9, 2021 floods and waiting rehabilitation. "These families also want either rehabilitation from flood prone areas or protective measures to save their houses and land, " said Munni Devi.
Asked about the reasons of continuous  landslide by river Gori in that area, Narendra Parihar,  local resident and a scientist at GB Pant institute of Environment and Development at Almora, said that due to climate change, glaciers in high Himalayan region are receding and melting speedily, resulting into high flow of water in summer months." In past years, landslides on river banks used to take place slowly  but in last 30 years, due to fast melting glaciers river are getting much more water which triggers landslides on the banks ,"said Parihar.
Besides Talla Ghururi village, other villages of Gori river valley are also affected by landslide." The villages of Hudki, Mori,Lumti, Bagicha Bagar, Umangara and Bhadelibagar, are also badly affected. The village of Mori has lost entire fertile land of the of the village in continuous cutting of land by river in last 30 years," said Parihar
Pradeep Kumar, district level geologist has said that the flooding is more due to several rivulets falling in the river in monsoon rains." The construction of river embankment will not work due to high speed  and velocity of water during Monsoon, regular clearance of river bed seems to be the only solution of the problem as of now." said Pradeep Kumar.