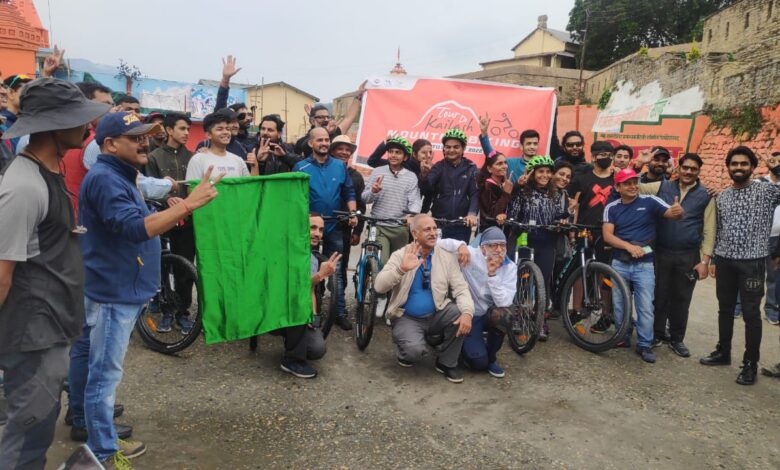 Adventure cycle rally in Indo-China border region of Pithoragarh
B.D.Kasniyal
Pithoragarh, May 23
With an aim to promote adventure tourism activities in the villages situated on Indo-China border, Pithoragarh district administration is organising an adventure cycle rally at Adi Kailash region of Vyans valley from May 25 to 27,2022.
"Today we flagged off the inaugural group of 58 adventure cyclists, from London Fort, Pithoragarh. The cyclists will teacher Gunji tomorrow to take part in the first ever adventure cycle rally being organised at this close border village for the first time,"said Dr Ashish Kumar, District Magistrate,Pithoragarh who conceptulaised the rally.
According to District Magistrate, the programe is being organised under 75th anniversary of freedom of the country." We resolved on this auspicious occasion to promote tourism in the villages, close to Indo-China border with an intention to provide employment to the villagers at their doorsteps, " said the DM.
As per the programe, the cyclists will take uphill pedaling from 10000 feet high Humko camp to 15000 feet high Adi Kailash region, and will return back  downhill.
" The rally adventurists will also peddle to Nabhidhang near Lipulekh border, which is 45 km from Adi Kailash region," said the DM.
Besides the adventure cycle rally, a river rafting session by KMVN , will also be organised in Kuti Yangti river, that flows at the height of 11000 feet for 36 kms  before merging into Kali river at Gunji.
" This river rafting will be organised at second highest region of the world in the state," said Dinesh Gururani, adventure tourism, manager with Kumaon Mandal Vikas Nigam.(KMVN).