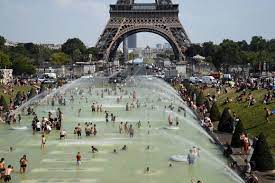 More scorching days in Europe predicted
Neena Sharma
Warsaw, July 17
More days of intense heat and scorching temperatures are in store for most European countries already weathering extreme temperatures. The scientists have warned of very high temperatures in the coming few days. The UK's first red extreme heat warning has been issued across a large part of England for Monday and Tuesday. While an amber warning initially covers all of England on Sunday and extends to southern Scotland and Wales from Monday until Tuesday. While temperatures in Western Europe are set to soar beyond 40 degrees Celsius next week, several European countries of Spain, Portugal, Italy and France are already in the midst of a blistering summer heat which is being attributed to climate change by scientists. The summer months of June and July have been exceptionally hot for these countries and there seems to be no respite in the coming few days.
According to media reports, so far more than 230 people have died due to the effects of the on-going heat wave in Spain and 238 in Portugal. A large number of people have been evacuated from their homes and provided temporary shelter. Extreme heat is also endangering the environment, with wildfires engulfing large swathes of land in Portugal, Spain and France.  While the fire fighters try to contain the wild fires in Portugal that have been on the rise since last week, local media reports say that new blazes have erupted in the north east part of Porto. Lousã in the center of Portugal hit a record 46.3 degrees on Wednesday. Dry and windy conditions have helped wildfires to spread. There was some respite for firefighters in Portugal, where temperatures dropped across most of the country on Saturday after reaching about 40 degree centigrade (104 F) in recent days.
Elsewhere in Spain, vast swathes of wooded area in Sierra de la Culebra, mountain range, located in the northwest of Spain, was destroyed in the wild fire that erupted due to extreme temperatures. According to local media reports, several tourists holidaying at a tourist destination, near the Costa del Sol in southern Spain were forced to flee after a wild fire spread in the Sierra de Mijas Mountain range. Lack of rainfall have exacerbated matters, according to reports Spain's reservoirs stood at 45.3% of capacity well below the average of 65.7% recorded during the same period over the past decade.
Meanwhile Italy faces another wave of intense heat over the coming days, driven by an anticyclone which has seen hot air currents from north Africa sweep in across the country. According to reports the latest heatwave has been christened "Apocalisse4800" by Italian weather forecast website Ilmeteo.it. The new wave of hot weather comes in the backdrop of Portugal registering a record temperature of 46.3°C on Wednesday. According to meteorologist Andrea Garbinatio, editor of the weather forecast website, "the wave could probably be one of the most intense in history at a European level". Italy has been without rain for several months now. This has affected the water flow in River Po, Italy's longest river, which has hit record low water levels. Stretching from the Alps to the Adriatic Sea, the water from the river is used for drinking, irrigation and hydroelectric power.
According to agency reports France, more than 10,000 people have been evacuated from areas in the southwest of  France, as fires rage in the department of Gironde. The European Union warned earlier this month that due to climate change the continent is in the grip of extreme weather conditions. Several parts of Europe have witnessed natural disasters including droughts and massive fires. The United Nations Inter Governmental Panel on Climate Change (IPCC) had warned that a warming of the planet beyond the pre-industrial levels of 1.5 degrees could increase the frequency of heat times to four times.
(Neena Sharma is a senior journalist presently based in Poland.)