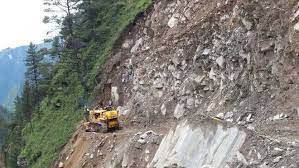 Road at Indo-China border to remain close for 15 days.
B.D.Kasniyal
Pithoragarh,  Dec 3
A key border road from Ghatiabagar to Lipulekh on the Indo-China border ,will remain close for all agencies, including Army, ITBP, SSB, Uttarakhand government departments and private Taxi owners for use for next 15 days, as the Border Roads Organisation (BRO) has initiated a move to complete all work on this 75 km long road before March 31, 2023, B. Karan Singh, a BRO said.
"After completing cutting of the road, we have now to complete all formation work before 2023, for that we have sought cooperation from all agencies who run their vehicles on this road on regular basis," said the BRO officer .
The formation work in pending at 0 to 20 km portion of the road that could take a time of 25 days to complete.  After been inaugurated by Minister of Defence Rajnath Singh on May 8, 2020, the road is used by Army, ITBP, SSB and state government agencies besides the private taxi operators ."The road has increased facilities for the villagers of all seven villages of Vyans valley besides providing easy access to security forces to reach border posts ,"said RS Gunjiyal, a resident of Gunji village of Vyans valley.