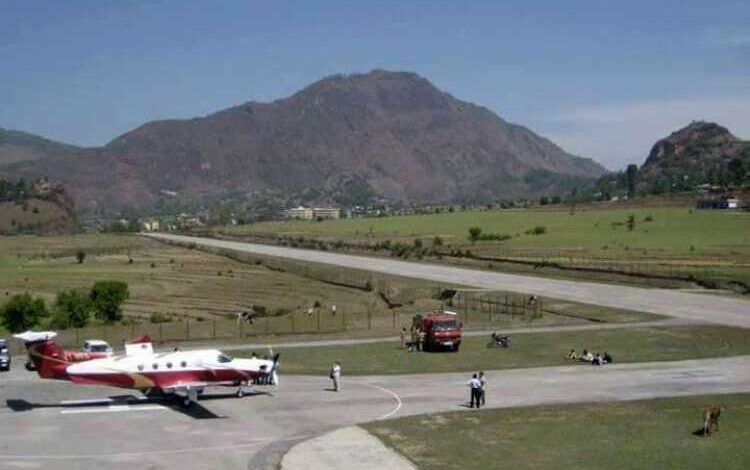 Hopes of air connectivity to Pithoragarh soars
B.D.Kasniyal
Pithoragarh, Dec 12
The air connectivity to this remote border district, seems a mirage for the past more than two decades despite the announcement by Uttarakhand Chief Minister Pushkar Singh Dhami, to link Pithoragarh,Dehradun and Pantnagar with a fixed wing aircraft  connectivity from January 31.
It has been learnt that Union Civil Aviation Minister Jyotiraditya Scindia has agreed to allow  private air companies to run air services to Pithoragarh. " The air services to Pithoragarh by 'Big Charter' company  from Dehradun and 'Spicejet' company from Hindon airport near New Delhi would start soon as the state government has given permission," claimed Kedar Joshi, a senior ruling BJP leader and a former Chairman of Kumoan Mandal Vikas Nigam (KMVN).
Such claims had been made by officials and politicians in the past 22 years since the formation of a separate state of Uttarakhand in 2000.
However, presently a 'Pawan Hans' helicopter service  is being run by state government to connect the district with state capital Dehradun but according to local newspaper reports, sometimes the four seater helicopter takes off without any passenger as no passenger comes to fly.
"We have been asked to remain prepared for air services from Naini Saini airport but have not received any letter from above in this connection yet, "said Reena Joshi, Pithoragarh District Magistrate.
Airport manager of Naini Saini airport, and SDM of Pithoragarh Anurag Arya said that he has started updating essential services at the airport on the instructions of distric administration t."I have no written information on what kind of aircraft will fly from here and what will he the route," said the Airport manager.
Naini Saini airport, that was commissioned in the year 199i, witnessed arrival of several VIPs like Rajiv Gandhi, Sonia Gandhi, HD Devegoda, Pramod Mahajan, Gulam Nabi Azad, Mulayam Singh Yadav and Moti Lal Vohra, after its commissioning.
After been used by several charted services, the airport witnessed it's first civil commercial air services from Hindon civil airport at Gaziabad to Pithoragarh on  October 10, 2019,when a nine  seater aircraft of Heritage aviation company landed at the airport. The long awaited commercial air service could continue only for 6 months and was  suspended after March 2020,  following  an incident in which the  door of aircraft opened in mid air immediately after  take- off from Pant Nagar airport on February 9. 2020." After the company cited it's inability to have another aircraft for operation on the route, we persuaded a famous company to come but the then civil aviation officers of Uttatakhang government refused to entertain another air services company on pretext that the former company has a three years agreement with the government. Interestingly, it has been two years but the company could not resume the air services from Pithoragarh," said Kedar Joshi, a senior BJP leader in state.
Joshi, who had earlier served in Indian Air Force (IAF) , has said that the light aircraft up to of nine passengers  could be accommodated in the present infrastructure  but for the start of commercial 49 seat fixed wing aircraft flights, many technical things needed to be fixed at the Naini Saini airport.
" The tall buildings on the periphery of the airport could be a hindrance in landing of bigger aircrafts and a tunnel for villagers should be made for villagers using the airport periphery," said Joshi.
Residents of Pthoragarh town feel that air service would be beneficial for general public as well as army personnel, patients, businessman and students who would prefer short air journey than spending tiring 18 hours road journey to New Delhi .
"The migrants settled in several parts of the country and abroad, who want to reach their ancestral villages, once in a year, could be potential customers of an air service," said Pawan Joshi,  president of district unit of Traders Association in Pithoragarh.