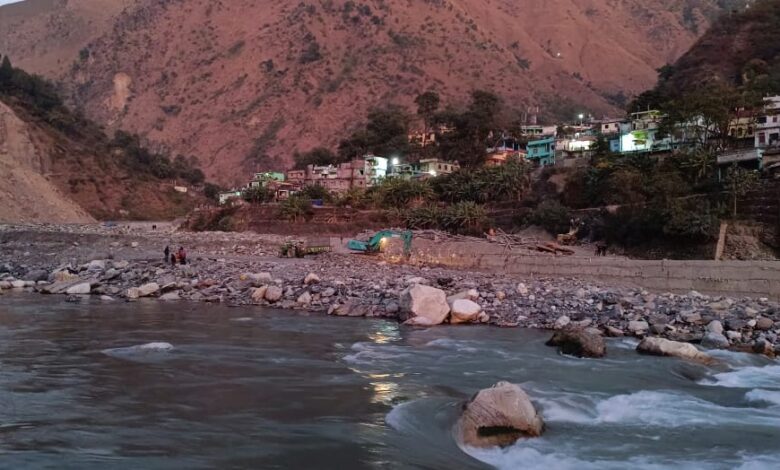 Nepal start removing debris from its' side along Kali river
B.D.Kasniyal
Pithoragarh, Dec 14
Following an agreement between officers of India and Nepal on December 4, Nepalese administration has started removing debris from its side on River Kali, that forms border between two countries in Dharchula town of Pithoragarh district of Uttarakhand.
"We have also started removing the debris from our side, this removal of debris from the river will enable Indian side to construct the protection wall along river side, without any hindrance ,"said Divesh Shashi, Sub-divisional Magistrate (SDM) of Dharchula.
India is constructing a 785 meters long protection wall along  the bank of river Kali on its' own side to protect the Dharchula town from floods during Monsoon months."it will enable us to complete construction of protection wall in rest of the 785 meters area, as we have already completed construction 320 meters long wall ,"said Farhan Khalid, executive engineer of irrigation department at Dharchula, which is nodal agency for construction.
The usual work of raising the protection wall along Indian side of the river had to be  stopped on December 4, this year, after some Nepalese miscreants hurled stones on Indian labourers involved in construction work from their side injuring one labourer working inside india.
"Nepal had agreed to remove debris and taken action against miscreants after Pithoragarh District Magistrate Reena Joshi took strong objections of the incident in the meeting of officers from two countries held on December 6, this year," said Dhan Singh Dhami, Block 'Pramukh' of Dharchula block.
" We are expecting that the work to remove the debris would be completed in newxt fortnight pavingway for the smooth construction of protection wall along the river bank," said Reena Joshi, District Magistrate, Pithoragarh.