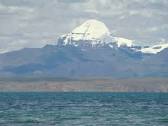 Kailash Mansarovar Yatra unlikely from Lipu Lekh pass for fourth consecutive year
B.D.Kasniyal
Pithoragarh, Feb 9
The possibility of commencing 'Kailash Manasarovar yatra' from 'Lipu Lekh' pass, situated in Pithoragarh district of Uttarakhand, is unlikely to be held for the fourth  consecutively year, as there is no correspondence from External Affairs ministry till date, according to Pithoragarh district administration.
'Kailash Mansarovar yatra' from 'Lipu Lekh' pass was last organised in the year 2019, but suspended there after due to Corona pandemic." Neither any correspondence has been received from the External Affairs Ministry nor any information is available on the website of ministry concerning Kailash mansarovar yatra from Lipu Lekh pass, this year." said a Kumoan Mandal Vikas Nigam official, a state government undertaking which used to organise the yatra.
The 'Kailash Mansarovar yatra', from 'Lipu Lekh' pass, began from the year 1981, and almost 1000 pilgrims used to cross Lipu Lekh pass to reach the sacred 'Kailash' mountain and 'Mansarovar' lake  in Tibet, every year till the year 2019," said Dinesh Gururani, a manager with KMVN, with 35 years experience in managing the yatra. "As a substitute to 'Kailash Mansarovar yatra', we are now preparing for 'Adi Kailash' yatra  situated in Indian territory of Vyans valley and having same religious attraction as that of Kailash mountains  ," said AP Vajpayee, a KMVN official.
"We have not received any letter from ministry of External Affairs, Government of India, which is the nodal ministry till date this year," said Reena Joshi, District Magistrate, Pithoragarh.
The traditional international yatra, that used to begin from first week of month of June every year till 2019, is taken care by Pithoragarh district administration by sending security and medical  teams to its  trek route camps.
According to officials from Kumaon Mandal Vikas Nigam (KMVN), the modal agency for the yatra,due to no indication from the mimistry this year and there is no chance of commencement of yatra from Pithoragarh. Otherwise earlier two meeting one in New delhi and another in Pithoragarh used to be held regarding preparation of the yatra  by January every year.
"Online applications would also have been invited till date, if situation would have been normal," added A.P.Vajpayee, a KMVN official.
"In place of 'Kailash Mansarovar yatra', we have developed routes of 'Adi Kailash yatra' situated in Vyans valley of Pithoragarh district, from 1994 and over 4000 Indian pilgrims have gone to 'Adi Kailash', " said the Nigam officer.
The 'Adi Kailash Yatra' this year will begin from first week of May, and will continue till first week of November." The Adi Kailash yatra will begin from Kathgodam and reach  'Adi Kailash' in Vyans valley after covering Kainchi Dam, Jageshwar, Pithoragarh, Dharchula, Bundi, Gunji, Nabhidhang,Om Parvat, Kalapani and Vyans gupha." We are busy in preparing in giving a final shape to the route chart of the 'Adi Kailash yatra' this year." said the Nigam official.