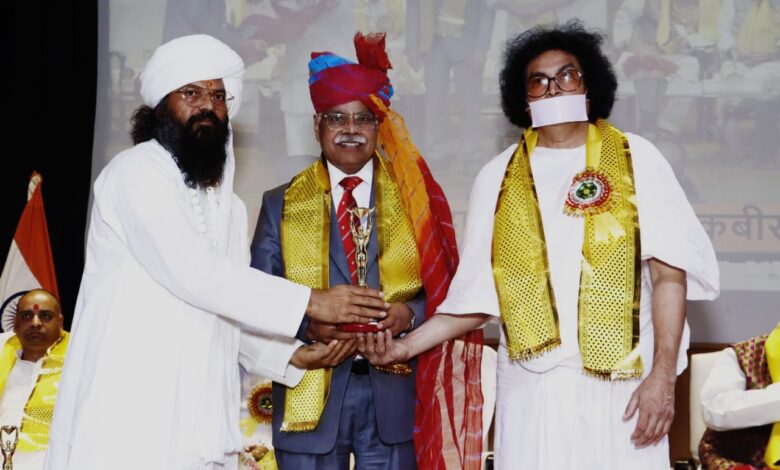 Padma Shri Dr. B. K. S. Sanjay honoured with 'Kabir Kohinoor' Award in Delhi.
Dehradun, Feb 9
Padma Shri recipient Dr. B. K. S. Sanjay, a renowned orthopaedic surgeon was  honoured with 'Kabir Kohinoor Award' by 'Satguru Kabir Ashram Sewa Sansthan Nagore', Rajasthan and 'Satguru Kabir Samadhi Isthali', Maghar, Sant Kabir Nagar, Uttar Pradesh for his distinguished social welfare work.
The award is presented by Maharaj Nanak Das of Satguru Kabir Ashram Sewa Sansthan, Nagore and Lokesh Muni Maharaj of Ahinsha Wishwa Bharti in the presence of actor of 'Mahabharata' serial Vishambar Budhauliya of Bhopal, ex national vice president of BJP Shyam Jaju and other dignitaries at a function held at . Dr. Ambedkar International Centre, New Delhi
Sant Siromani Kabir was born 500 years back but whatever he has said and given the guidance to the society which remain uncomparable. When Kabir was born the society was divided engaged in fighting with each other either because of religious fundamentalism or religious rituals and customs which were dominant  in both Muslim and Hindu religion.
Kabir has given a message to the society to maintain harmony and stop following mere religious rituals for the sake of it. He strongly believed in the concept of "Vasudhaiv Kutumbakam" meaning that the whole world is one.
Kabir has spread the message of brotherhood, harmony and love in the society. He has rightly said that "Dhai akshar prem ka, Padhe so pandit hoye" that means "If a person learns to love the humanity, he deserves to be called a scholar". His writing is inspirational and remain relevant even today after 600 years and would remain in future also.