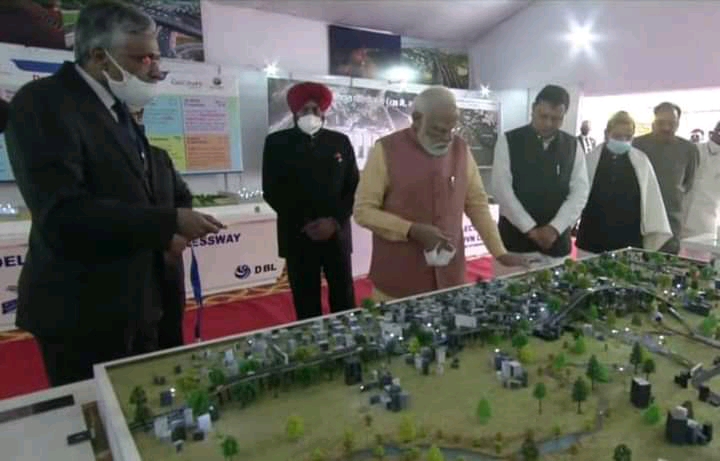 S.M.A. KAZMI
Dehradun, Dec 4: Prime Minister Narendra Modi launching his party's election campaign in election bound Uttarakhand, focussed on economic development and claimed that the 'Double engine' BJP governments in the state as well as at the Centre has done very well as compared to previous Congress led governments.
Addressing a well attended first election rally at parade ground, here on Saturday, Prime Minister Narendra Modi daring his political opponents said that he possessed the political courage to claim that the 'Double engine' governments has worked for the development of Uttarakhand wholeheartedly. Modi during his 2017 state assembly poll rallies had asked the people to vote for BJP so that the state could have a "Double Engine" government.
He claimed that infrastructural development projects worth rs one lakh crores have been sanctioned for Uttarakhand during BJP rule. Highlighting the Rs 18,000 crore worth of projects which he inaugurated or foundation stone laid, today, Prime Minister Modi said that these projects will usher in development and create employment opportunities for the locals.
"I said it during my previous visit to Kedarnath and I am again repeating it that the coming decade will be the 'Decade of Uttarakhand'. The 'Pani and Jawani', (the water and youth) of the state will be put to use in Uttarakhand and will not go out," he said.
He laid the foundation stone of many projects and inaugurated some, including the Delhi-Dehradun Economic Corridor, worth around Rs.18,000 crores.
Hitting out at the previous Central government led by Manmohan Singh, Modi charged that during that period corruption and scandals galore but since his government came to power the focus has been to add infrastructure at double the speed to compensate the loss of the time. " We are working with zeal and commitment in the this 'Mahayagna' of development", he claimed.
Comparing the tenure of previous Manmohan Singh government with his own, Modi said that only 288 kilometers of National highway was added in Uttarakhand from 2007 till 2014 while 2000 kms of National highway was added from 2014 till 2021. "They had spent only Rs 600 crores for road development in Uttarakhand but we had already Spent rs.12,000 crores," said Modi.
 He further claimed that development work which was not the priority of the previous regimes which focused on vote bank politics and made the people completely dependents on the governments. " Our approach is different which aimed at making the people of the country 'Atamnirbhar' ( self dependent)," he added.
Prime Minister Modi said that work has been done in nearly all the vital sectors including education, health, power production, water supply, infrastructure in border areas and security through government schemes on time bound manner." The schemes like Ayushman Bharat, free rations has helped everyone including poor and the middle classes," Modi claimed.
In a veiled dig at congress, he warned the people of Uttarakhand to beware of those who have failed everywhere and cannot do anything for Uttarakhand. In the end ,he read a long poem eulogising 'Devbhoomi' Uttarakhand ,which he claimed is not on the spiritual epicentre but also important for the defence of the country.