Environment
Health
On International Mountain Day, 620 kg dry waste collected in Mussoorie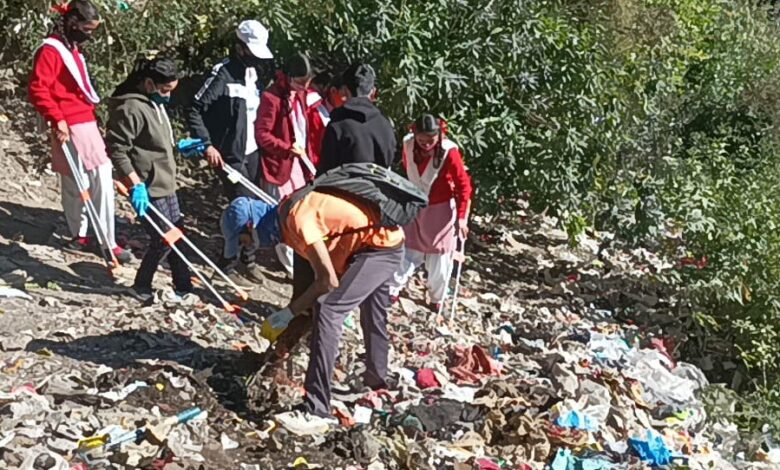 On International Mountain Day, 620 kg dry waste collected in Mussoorie
Ajay Ramola
Mussoorie, Dec 11
International Mountain Day was celebrated in Mussoorie with the resolve to keep the environment and mountain slopes free from dry waste, especially plastic through the mega cleanup drive held today.
A total of 620 kg dry waste was collected by the social activists under the ongoing 'Hilldaari Nestle' India project which is being implemented by 'Stree Mukti Sanghatana' and it's technical partner 'Recity Network'.
The mega clean-up drive was conducted with the support of Mussoorie Municipality, Keen, Hilldaari, Mussoorie Girls Inter college, and the Fun Brentwood, in which 620 kg of dry waste was collected.
The dry waste collected in the drive was transported to the dry waste collection centre at IDH near Tehri Bypass Road. 'Hilldaari' team sensitized the local citizens in accordance with their motto of 'Collective change, Collective responsibility'.
The citizens of the hill town were advised to give the garbage to 'Paryavaran Mitras' (garbage collectors) only.
'Hilldaari' and 'Keen' team also educated citizens about no-littering around the roadside, in the drainage lines, mountain slopes and in the forest areas around Mussoorie.
Arvind Kumar Shukla the coordinator of the project said that it was the collective responsibility of the society to conserve mountains and forests so that the mountains and the environment of the Mussoorie could be saved. In the past three years, 120 clean-up drives were conducted in which 607 MT of garbage was diverted from going to landfills by the combined efforts of Mussoorie Municipality, 'Hilldaari', 'Keen' and various organizations, added Arvind Shukla.
Virendra Bisht, Sanitary Inspector, Mussoorie Municipality and Health department, Nisha from Fun Brentwood, Masanti Dhanai, a teacher from Mussoorie Girls Inter college and Mussoorie Eco Club along with the students, Naina, Sunita Kohli, Sunita Dumogha, Pramila, Ranjita, Isha, Rekha, Priyanka, Anjali, and Shivani. From 'Keen' organisation, Ashok Kumar, Vikram, Shubham, Ajeet, Kamal, Nidhi, Vipin and from 'Hilldari' Kamal, Abhilash, Rohit, Arun, Kiran, Leela, Nisha, Zeba, Anjali, and Maya participated in the clean-up drive event.
The theme of this year's International Mountain Day is sustainable mountain tourism.
The United Nation experts believe that sustainable tourism in mountains can contribute to creating additional and alternative livelihood options and promoting poverty alleviation, social inclusion, as well as landscape and biodiversity conservation.
Mountain tourism attracts around 15 to 20 per cent of global tourism. Tourism, however, is one of the sectors most affected by the Covid-19 pandemic, affecting economies, livelihoods, public services, and opportunities on all continents. In mountains, the restrictions of the pandemic have further compounded the vulnerabilities of mountain communities.(ends)