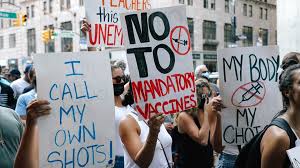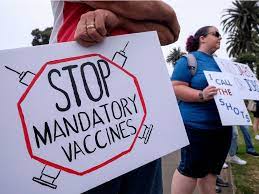 Neena Sharma
Warsaw, January 10
With the Covid pandemic entering it's third-year, governments across Europe have toughened their stand on vaccine avoiding population. In the initial years of the pandemic, it was appeals and other inducements that were offered to vaccine sceptics, but three years down the line there are several people who still continue to hold out.  As the fast-spreading omicron variant spreads its tentacles in Europe, an all out effort is on to save the health facilities from its crippling impact.
With European economies still in the various stages of recovery experts say, curfews could dampen prospects for a full recovery of the economy. Though a few European governments have tried with semi-lockdowns, but the greater focus continues to be on imposing   curbs on the unprotected and at the same time accelerating the pace of booster doses.
The fact that around 70 percent of the population have taken the complete two doses of vaccination  has emboldened   the western European governments to act tough.
Recently, the French President Emmanuel Macron was roundly ticked off for using strong language against the anti- vaxxers in his country but that did not stop him from introducing vaccine pass bill.  After the initial hurdles, the French political parties voted in favour of the legislation that is expected to come into force in the second half of this month. It will then become necessary for the French people over 12 years of age to prove their vaccination status in order to access leisure activities and public transport. In that sense, the vaccinations are being viewed as a weapon extricating countries out of this difficult pandemic induced situation. As such, vaccinating maximum people seems to have become an unwavering goal. In neighbouring Germany, chancellor Olaf Scholz, who is an advocate of compulsory vaccination has time and time again reiterated that the people who are still resisting inoculation is a tiny majority and are "extremists with reckless disposition."
In the early days of vaccination, the European governments had restricted coercion and extreme measures, but with the virus continuing to spread unabated there is a general belief that health cannot be jeopardised in the quest for civil liberties and personal freedom. It has been championed by the French president who has not lowered his guard against no vaxxers despite protests and criticisms.
In Austria the unvaccinated are barred from entering  bars and restaurants, it intends to come up with compulsory vaccination soon. In November last year the country had witnessed huge protests by far-right groups opposing curbs and vaccine mandates so did Belgium and Netherlands.
Not content with denying the unvaccinated access to bars and restaurants, Germany has now made negative tests mandatory for those double vaccinated but still without the booster dose.
Amidst the governments firm measures is a clear-cut message to the unvaccinated, not to jeopardise people's lives. Yet there are still areas of resistance and hold-outs. The situation came to a head in Australia, when the Serbian and world tennis no 1 Novak Djokovic a vocal  critic of vaccination was denied entry to Australia for the Australian open.
In Poland, vaccine sceptics are posing headache to the government amid a surge in covid cases. " We are facing a peculiar situation, there are families in which the young are not coming forward to get vaccinated, while their elders have all been vaccinated," said a Doctor from a hospital in Warsaw.
Though the Polish government in December has made it mandatory for Doctors, medical personnel, teachers and uniformed personnel to get vaccinated by March 1, it is also worried about alienating voters who oppose vaccine mandates or any restrictions on their lives.
Romania which is the EUs second least vaccinated nation after Bulgaria is lagging behind in vaccination. Over sixty percent of those over 65 years of age and with chronic disease remain unvaccinated.
In most of these countries the reasons for opposing vaccination range from extreme scepticism, to terming covid as a hoax and a possible fear of side effects.
Scientists say that while vaccines don't  completely stop the transmission of the virus, those vaccinated face fewer and mild symptoms from omicron which in turn  could mean reduced  pressure on hospitals.