Bird watchers flock Munsiyari for rare Himalayan birds
B.D.Kasniyal
Pithoragarh, Jan 12
The number of bird watcher tourists is on the rise in Munsiyari area of Pithoragarh district of Uttarakhand during winter months as over 325 species of Himalayan birds, including some local birds residing in higher Himalayan region descend to lower valleys.
According to bird lovers and local voluntary groups involved in bird watching based in Munsiyari, earlier only one or two bird watchers from across the country used to come to the region for bird watching but this year over 12 groups have reached to watch birds in Khaliatop area till date.
" Besides, the number of queries on bird's species which migrate to lower Himalayan valleys in winter  have increased in last some years," said Surendra Panwar, president of 'Monal', a voluntary group and an ace bird watcher.
According to Panwar, despite the presence of sizeable number of bird watchers this winter in  Munsiyari, the number of bird flocks have decreased this year.
" The  bird flocks that had been visible in the month of November in 2020 did appear only in the last week of December 2021," said Panwar.
To view rare Himalayan birds in winter, bird watchers from other bird watching regions of Kumaon like Sattal and Kaladhungi are also reaching Munsiyari from past few year.
"The tourists come to Munsiyari specially to view Cheer pheasant and Satya Tragopan, that are found only in Munsiyari in Uttarakhand state,"said Panwar.
According to forest officers, the increasing   bird watching tourism of Munsiyari needs more tourist guides to care of the tourists.
"In future we will have to train more local youths  to serve the tourists who reach Munsiyari to watch  rare Himalayan birds," said Love Raj Singh Pangti, the forest officer of Munsiyari.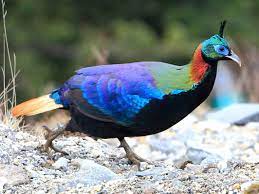 Surendra Panwar claimed that Munsiyari is a unique place for bird watchers as not only high altitude Birds reach the area in winter but birds from river valleys also reach safe places to breed in winter months.
"Special care has been taken by forest department to protect local bird species, specially those found only in Munsiyari hills. We have installed CCTV cameras in their migration and dwelling routes to trace poachers, who also become active during winter months," said Love Raj Singh Pangti.
The migratory birds, specially Himalayan snowcock, snow partridge, bullfinch, rosefinch  and monal, migrate to 3200 to 3500 meters in the lower valleys of Himalayas from their 4000 meters high habitats of Manik, Hiramani and Posting glaciers to escape winter chill, find food  and to breed in the Munsiyari valley every winter after snowfall.