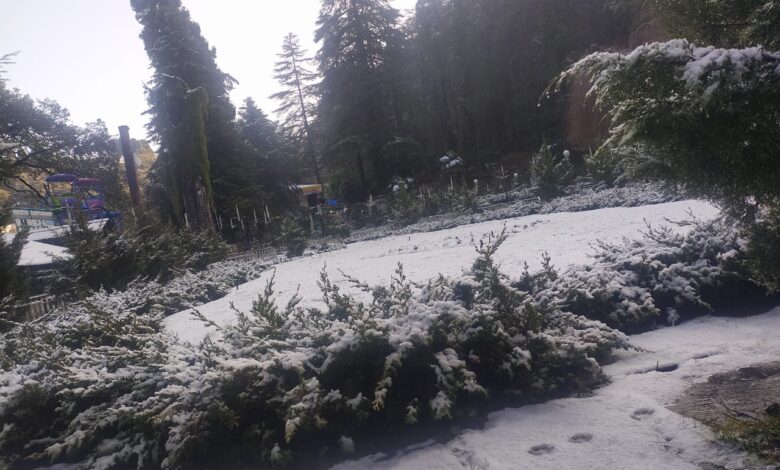 Mussoorie, Dhanaulti receives fresh spell of snow
Ajay Ramola
Mussoorie, Jan 12
The hill town of Mussoorie witnessed light snowfall since early morning on Wednesday. The fresh snow spell began around 5.00 am and continued for around an hour, covering most of the town areas with a thick blanket of snow.
The tourists rushed to the twin towns of Dhanaulti and Mussoorie to enjoy the fresh spell of snow which resulted in long traffic jams at a few places on Mussoorie-Dhanaulti road.
The business community had something to cheer about, and the shopkeepers did a brisk business in the town. The tourists rushed to buy warm woollen clothes to avoid the chilly conditions in the town.
GC Sharma, the police station in-charge of Mussoorie said that the police force was deployed at all the traffic bottlenecks  on the road to avoid any traffic congestion.
The tourist who was waiting for the road to clear of snow made a beeline for Dhanaulti to enjoy in the snow.
The farmers from the villages around the region were also delighted at the fresh spell of rainfall and termed it as productive for the temperate crops.
The scientists are of the view that the fresh spell of snow is good for temperate fruit and nut species that require exposure to chilling conditions (cold hours) in winter to break dormancy and produce high yields.
"Adequate winter chill is an important site characteristic for commercial orchard operations, and quantifying chill is crucial for orchard management in temperate fruits", said Tejpal Singh Bisht, assistant professor department of horticulture HN Bahuguna Central University, Srinagar.
Snowfall during winter impacts on winter chill/chilling requirements of temperate fruit and nut crops. Chilling requirements are vital, especially where trees are grown in areas that are substantially warmer than their regions of origin. This is true for a wide range of species, such as apples, pears, apricots, peaches, plums, walnuts, almonds, and pistachios, he added.
Most of temperate fruit crops need less than 500 hours of chilling temperature i.e., 3-4 weeks of snow cover over the ground. Whereas superior quality temperate fruit production (especially good quality apple) requires less than 7 weeks of snow cover especially during January to Mid-February. A good amount of rain and snowfall is very much needed by plants during January-Early February. However, snowfall later can also affect the crop. If snowfall starts after 1st week of February, which is when the plants start flowering, the crop can be damaged and the productivity can be affected, said Bisht.