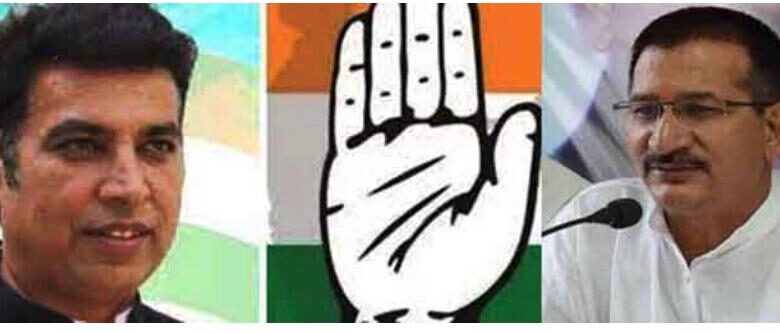 Senior Congress leader Kishore Upadhaya removed from all party positions
S.M.A.KAZMI
Dehradun, Jan 12
In a major political development, Uttarakhand Congress has removed Kishore Upadhaya, a former Uttarakhand Chief  and senior party leader from all the party positions for his alleged anti party activities.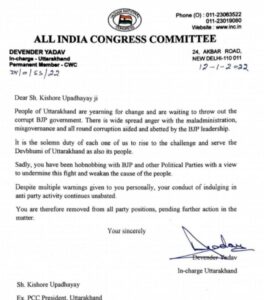 Devender Yadav, general secretary Incharge of Uttarakhand in a letter addressed to Kishore Upadhaya, today evening informed him about the party decision. Yadav wrote,"people of Uttarakhand are yearning for change and are waiting to throw out the corrupt BJP government. There is widespread anger against maladministration, misgovernance and all round corruption aided and abetted by the BJP leadership. It is the solemn duty of each one of us to rise to the challenge and serve the Devbhumi of Uttarakhand as also its people."
" Sadly you have been hobnobbing  with BJP and other political parties with a view to undermine this fight and weaken the cause of the people. Despite multiple warnings given to you personally, your conduct of indulging in anti party activities continues unabated.You are therefore removed from all party positions, pending further action in the matter."
Amidst rumours of joining BJP, Kishore Upadhaya was seen meeting senior BJP leaders including BJP state election incharge Prahlad Joshi, few days ago. Earlier, he had met Samajwadi Party leader Akhilesh yadav in Lucknow much to the chagrin of Congress leadership.
He also started a verbal war with former Chief Minister and his one time mentor Harish Rawat. He blamed Harish Rawat of back stabbing and plotting against him in the 2017 state assembly elections which Kishore Upadhaya,  lost from Sahaspur assembly segment of Dehradun District. Kishore Upadhaya had been a legislator from Tehri assembly segment in Tehri Garhwal district in 2002 and 2007. He also remained a minister of state in the first elected government led by Congress veteran N.D.Tewari for two years.
He said that Harish Rawat preferred Dinesh Dhanai, an independent from Tehri who defeated him in 2012 over him to undermine his position and made him lose from Sahaspur in 2017. Harish Rawat refuting his allegations had replied that being state Congress President Kishore Upadhaya had himself chosen to contest from Sahaspur leaving his native Tehri seat.
Kishpre Upadhaya was not available for his comments.