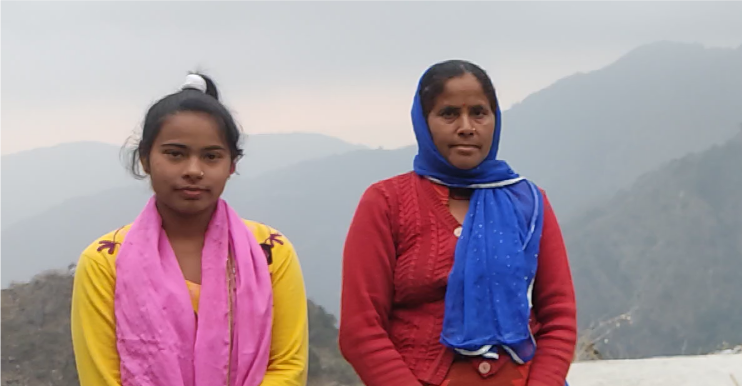 Mohit Uniyal Sharma, takes ticket rejection in his stride, highlights daily struggle of mother-daughter duo for education
S.M.A.KAZMI
Dehradun, Jan 29
Amidst the cacophony of Uttarakhand state assembly elections, where candidates are switching sides with impunity, those denied party nominations are cursing their political mentors and parties and preparing to contest elections as rebel candidates, there is an example of Mohit  Uniyal Sharma, Youth Congress leader from Doiwala assembly segment in Dehradun, who was given Congress party nomination but replaced with another candidate after two days.
Mohit Uniyal Sharma, a soft spoken leader who is known more for his social endeavours and mission than mere politics has taken the rejection in his stride. While, whole lot of politicians in the state were cribbing and cursing, Mohit Uniyal Sharma after being replaced as candidate from Doiwala, started doing what he does for the common poor villagers-highlighting their struggle and becoming a part of the hardships faced by the common people in Uttarakhand.
While, he was preparing to file his nomination paper, the news about his replacement came. His young enthusiastic friends  were disappointed but he advised them to forget about it. Giving his perspective, he said that becoming a socially conscious citizen is more important than becoming a legislator. The political setback did not deter him from undertaking, a journey to Badkot, a remote village in the Doiwala assembly segment, mostly on foot soon after his ticket rejection.
With two of his friends, he set out to Badkot area to know, the first hand information about the life of the people living in mountains not much far away from the razzle and dazzle of capital Dehradun.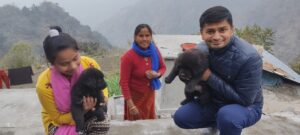 Mohit Uniyal Sharma, on reaching the village found that most of the families had migrated due to lack of basic civic services which is the bane of entire Uttarakhand. Only a single family of husband and wife with their lone daughter are the inhabitants of the village. " It has been a daily struggle for atleast five days a week for Parvati and her daughter Tanya to travel 16 kilomteres every day, so that her daughter could attend school. The father is a farmer with meagre land holding," said Mohit Uniyal Sharma.
Mohit Uniyal Sharma said that Parvati takes her daughter to Nahikalan village, which is four kilometre from Badkot as the forest path is dangerous and full of wild animals. From nahikalan, Tanya alongwith other children goes to her school in Sindhwala village which is further four kilometres away. Parvati return back to her village after leaving her daughter and then again goes to Nahikalan in the afternoon to take her daughter back home. " Parvati and her daughter Tanya walks approximately  416 kilometers in a month on dangerous mountainous slippery paths for schooling," said Mohit Uniyal Sharma. The situation is much worse during monsoon period when local streams are overflowing and there is danger of landslides.
The family also is worried about the future studies of their daughter after her matriculation. The nearest Inter College is at Thano which is eleven kilometre away. The family is planning to either migrate like other villagers or contemplating having distant education as an alternative for Tanya's further studies.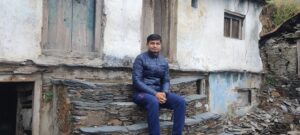 " It is true that schools cannot be opened in each and every village, but something concrete need to be done to provide basic facilities of education and health to the villagers. The area is not far from capital Dehradun and one could imagine the situation of basic civic amenities in far off mountainous regions of the state. This is not the struggle of Parvati and her daughter Tanya but of most of the women in the villages of Uttarakhand ," he added.