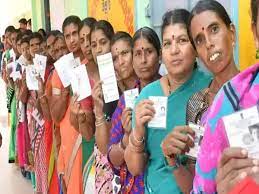 More voting of women than men in 33 out of 34 seats in nine hill districts of Uttarakhand
Dehradun, Jan 29
Amidst the electoral battle that is underway in Uttarakhand, Social Development for Communities Foundation (SDC)  has released another report on the election data of nine hill districts of the state. Women in Uttarakhand are said to be the backbone of the state's economy, but this report shows that women are also the backbone of democracy in the state. Despite all the efforts of the Election Commission to increase the voting percentage where the voting percentage of men is less in the state, women are voting more than men.
According to Anoop Nautiyal of SDC Foundation, their organization is analyzing the election results of the earlier Uttarakhand elections from different angles. The purpose of these analysis is to increase voter participation, draw attention to the solutions of migration and promote women empowerment in the state.
Anoop Nautiyal said that in the assembly elections held in 2017, the voting percentage of men in 34 seats in nine hill districts of Uttarakhand was only 51.15 and women's polling percentage was 65.12. More women than men voted in 33 of the 34 seats in the nine hill districts of the state. It was only in the Purola assembly seat of Uttarkashi district that 583 more men voted than women.
He further said that apart from 33 seats in hilly districts, 4 seats in plain districts, Doiwala, Rishikesh, Kaladhungi and Khatima also had more women voters than men. In hill districts, on an average, 28202 women and 23086 men exercised their franchise in each assembly seat and on an average 5116 more women cast their votes than men in each seat. Bageshwar, Rudraprayag and Dwarahat were at the forefront in terms of maximum number of women voting. In Bageshwar, 9802 more women exercised their franchise than men, 9517 in Rudraprayag and 9043 in Dwarahat.
According to Anoop Nautiyal, despite such a large participation of women in the voting in the hill districts of the state, major political parties have given tickets to a small number of women. The coming government should make plans keeping in mind the all-round development of women in the state. Apart from this, it should also be kept in mind that how people who are unable to vote due to livelihood compulsions and migration can be made a part of the democratic process. The report was prepared with the support of Vidush Pandey, Praveen Upreti and Pyare Lal at SDC Foundation.