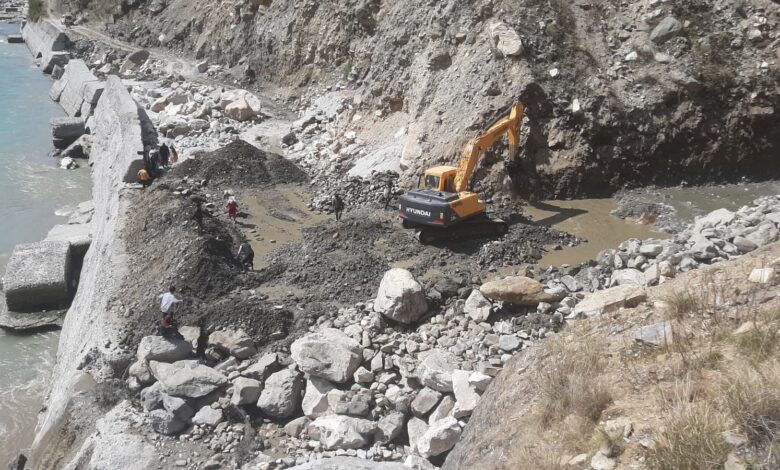 Construction of embankment on Indian side on river Kali at Dharchula starts
B.D. Kasniyal
Pithoragarh, March 5
Taking into account flooding caused by river Kali every monsoon following the construction of embankment by Nepal, the Uttarakhand government has started construction of a 1715 meter long embankment on Indian side at Dharchula town in Pithoragarh district of Uttarakhand. River kali forms the border between Nepal and India in the district.
" The work on the embankment, to save localities major part of Dharchula town  that has been suffering from floods every monsoon season has started.
The 1715 meter long embankment will be constructed in two parts at a total cost of Rs.77 crore," said Arvind Saini, an engineer of irrigation department which is undertaking the project.
According to Saini, the first part of the work will be completing 730 meters from Ghat khola to Khotila while another part will be from Ghat khola to Taxi stand."We are working at full capacity to complete the work before monsoon this year." he said.
The demand to construct an embankment on river Kali on the Indian side was raised by local people after Nepal constructed an embankment on it's side after 2013 disaster protecting its' area from flood waters of the river during monsoon.
" Since Nepal constructed an embankment on it's side, the river flow after getting pushed by the embankment hits the Indian side resulting in heavy damages to Indian localities during monsoon." said Bhupendra Singh Thapa, president of Dharchula Vyapar mandal, who was among those who raised the demand.
He further said that besides the houses of local residents, the flood waters of river Kali used to damage SSB camp, NHPC colony, Custom office, GGIC, LPG godown and BRO camps during monsoon every year after 2013, when Nepal completed construction of  embankment on it's side.
" With construction of embankment on Indian side too, we will now be able to sleep without any fear during monsoon." said Shalu Datal, a Rung community member and journalist based in Dharchula town.
Pithoragarh District Magistrate Ashish Chauhan on February 28, this year inspected the embankment construction site and instructed the construction agency to keep in mind suitable design and quality of the constriction."I  have also instructed the construction agency to complete the work before monsoon this year." said the DM.