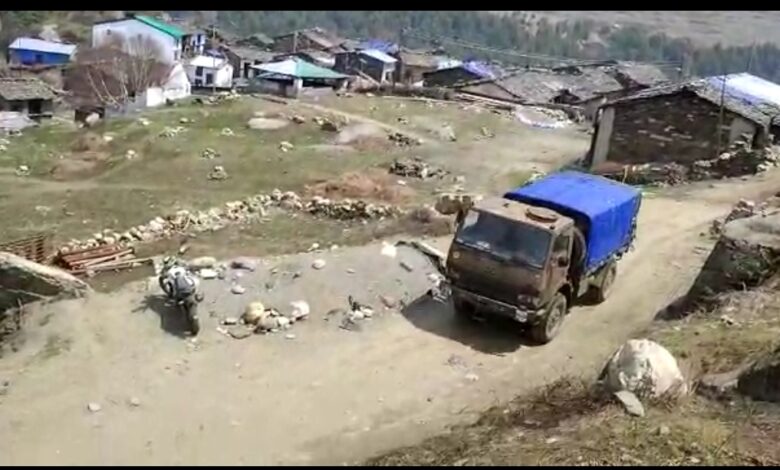 Road to Darma valley re-opened after six months
B.D.Kasniyal
Pithoragarh, April 9
Closed in October 2021, due to heavy snowfall, the Sobla to Dhakar motor road connecting the Darma valley villages at Indo-China border in Pithoragarh district was opened for vehicular traffic today.
"The road to 14 villages of high altitude situated Darma valley was opened much earlier than the deadline given by District Magistrate, Pithoragarh." said Anil Bangiyal, a Central Public Works Department (CPWD) engineer. The CPWD is involved in the construction of the 47 km long portion of 70 km long motor road to Darma valley.
"With opening of the road, not only the villagers will now be able to  reach their homes in time during this summer migration, but the tourists to Panchchuli base in Darma valley will also be able to reach their destination," said Shalu Datal, a Darma resident and social worker in Dharchula.
The security personnel deputed at security posts along Indo-China border in Darma valley will also have a sigh of relief as they frequently use this road to reach their posts from lower valleys.
"We had to remove six temporary  glaciers  from the road in record time. The glaciers have covered the road at Ghangmanati, Bongling, Sela, Nagling and Baling villages. The District Magistrate had given us a deadline to open the road before April 15 or before the start of summer migration of tribal villagers. We have opened it a week before," said Anil Bangyal, a CPWD engineer.
The villagers have said that the road remained open only for two months in last one year that too during the summer migration of 2021." The road was closed due to pre- monsoon rains in June last year. The road was closed in July after the heavy rains washed away a bridge at Kanchoti, but was closed following snowfall from October 2021," said Datal.