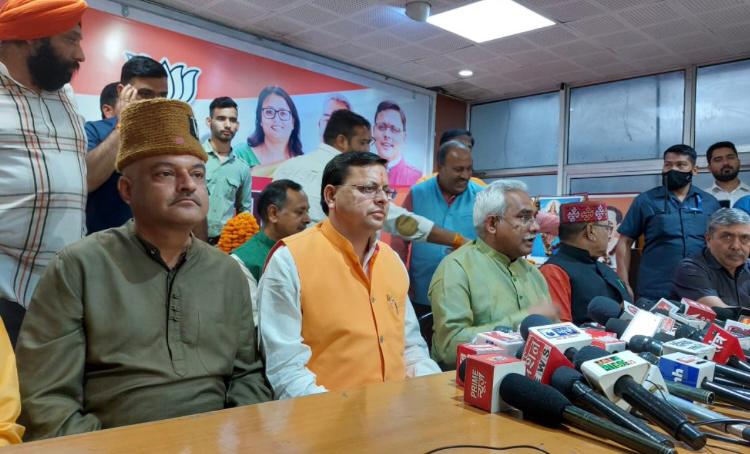 AAP CM face Col. Ajay Kothiyal (retd) quits party, join BJP
Ajay Ramola
Dehradun, May 24
Colonel Ajay Kothiyal (retd), who was the Chief Ministerial face of the Aam Aadmi Party (AAP) in the Uttarakhand assembly elections, joined the Bhartiya Janata Party (BJP) along with 400 of his supporters at the BJP headquarters here on Tuesday. He was presented with primary membership slip by the Uttarakhand Chief Minister Pushkar Singh Dhami and state BJP president Madan Kaushik.
Aam Aadmi Party following the dismal performance in the assembly elections, had made Deepak Bali the state president on April 29. Ajay Kothiyal resigned from the primary membership of the Aam Aadmi Party on May 18, after he was not invited for a meeting in national capital to discuss the party performance in the state assembly elections. The AAP made some new appointments but decided to ignore him forcing him to resign.
Notably, Delhi  Chief Minister and national convener of AAP  Arvind Kejriwal had announced Colonel Ajay Kothiyal(retd)  as the chief ministerial face of the Aam Aadmi Party in the assembly elections with much fanfare but it following drubbing the elections decided to get rid of him.
Col. Kothiyal (retd) who himself fought from Gangotri seat was defeated. Hailing from a family having RSS background,  before joining AAP, he was trying to get a BJP ticket during the Lok Sabha elections in 2019 but failed in his attempt. he had an audience with RSS chief Mohan Bhagwat also.
A decorated soldier and an ace mountaineer, Ajay Kothiyal won applauds for his tireless work in the reconstruction of Kedarnath shrine after the 2013 June deluge. He stayed put with his team of dedicated workers to rebuild the Kedarnath area amidst intense cold and snow.
BJP by inducting Ajay Kothiyal will try to strengthen its own pro-army image for the Lok Sabha elections in 2024.
This is being termed as the big embarrassment for the AAP as it had pinned lots of hope on Ajay Kothiyal to strengthen the party in the state but former principal of Uttarkashi-based Nehru Institute of Mountaineering, Kothiyal who also runs an organization that trains the locals to join the Armed Forces thought otherwise and decided to join the BJP bandwagon following  defeat of the Congress as well as his own AAP in the state assembly polls.
AAP drew a blank in the Uttarakhand Assembly polls despite garnering a vote share of 3.31%. In his resignation letter,on May 18, he announced to quit AAP considering the sentiments of ex-servicemen, ex-paramilitary, elderly, women, youth and intellectuals of the state.