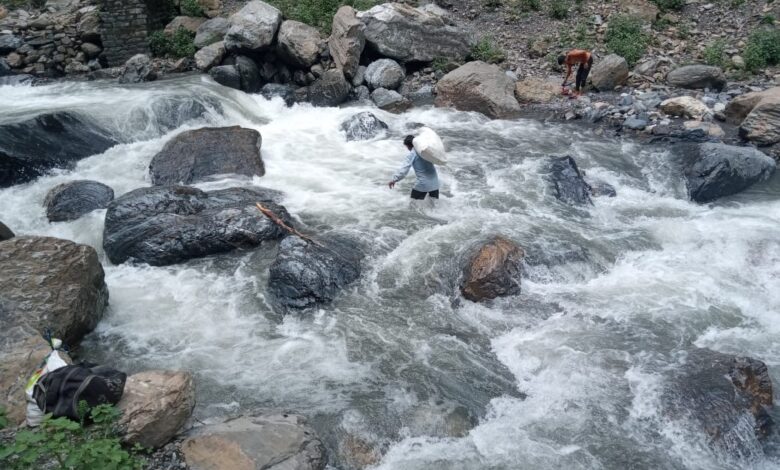 Rain brings misery to people in hills
B.D.Kasniyal
Pithoragarh, July 1
The Pithoragarh district administration at border town of Dharchula has stopped issuing interline permit to 'Adi Kailash' pilgrims from past three days due to closure of Dharchula to Tawaghat road, at Malghat. Nandan Kumar, SDM, Dharcula  said that
over 50 Adi Kailash pilgrims including one batch of pilgrims sponsored by KMVN, are staying at Dharchula waiting for the clearing of the road.
"We have advised the pilgrims not to go on pilgrimage till the debris from the road gets cleared, " said the SDM.
The administration had to shift some families of Khotila village to safe place after a house of the village was damaged after falling of a heavy boulder on it.
According to villagers, four concrete bridges on Khumti river were washed away due to rains in the area, causing difficulties to over 700 villagers of nearby villages."If the bridges were not restored by July 6th this month, over 300 students from these villages will not be able to go to schools as the schools are opening after summer break from July 6," said Shalu Datal.a social worker in Dharchula town.
According to Pithoragarh District Magistrate Ashish Chauhan, landslides due to heavy rains from last 24 hours, has resulted into closure of 22 roads including two state highways, one border road and 19 village roads. " We have instructed the officials to ensure removal of debris by today evening," said the DM.
Meanwhile, over 110 cusecs of water had to be released from Chirqula reservoir of Dhauli Ganga power project last evening after the reservoir started to overflow . This release of water had resulted into rising of water level of Kali river at 889.20 meters, which is just below the warning level."Before releasing water, we have cautioned the villagers living nearby not to go to the river bank, " said a NHPC  officer in Dharchula.