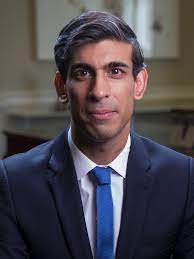 Locals upbeat about Rishi Sunak in his hometown
Neena Sharma
Southampton,(United kingdom),  July 20
From a first time MP in 2015, to chancellor of the exchequer in 2020 and now battling for the top job at No 10 with Liz Truss, Indian-origin Rishi Sunak's story so far has been one of a meteoric rise to the top in the Conservative party echelons.
While only time will tell whether Sunak creates history on September 7, when the results for the Tory leadership contest would be announced, nevertheless, he has managed to create a fair-amount of buzz in the city of his birth.  Rishi Sunak was born in Southampton, a port city to emigrants Yashwir Sunak and Asha Sunak, whose families had earlier migrated from Punjab to Kenya and then finally moving to England in the 60s.
In Southampton on Burgess Road, Asha Sunak ran a pharmacy, while Yashwir Sunak worked as a GP at a local hospital. "The Sunak's sold the pharmacy business in 2014 and it is no longer called Sunak Pharmacy, but carries the name of Bassett Pharmacy," recalled Vinod. Like most first and second-generation emigrant families, the Sunak family too focussed on providing good education to their son. Rishi was schooled at the posh Winchester College, which also happens to be Mumbai actor Saif Ali Khan Pataudi's school.
After private schooling at Winchester College, where he was a head boy, he went on to do a degree in politics, philosophy and economics from Oxford university. He followed it up with a master's in business administration at Stanford University in the US. At Stanford University, he became friends with Akshata Murthy, the daughter of Infosys chairman and founder Narayan Murthy, whom he later married.
Rishi Sunak's foray into electoral politics began in 2015, when he was selected to succeed Tory leader William Hague from Richmond, Yorkshire. He won the seat in 2015 and was again reelected in 2019. Between 2018 and 2019 he served as Parliamentary Under Secretary of State for Local Government before entering the Cabinet in 2019 as Chief Secretary to the Treasury. In February 2020, he became one of the youngest chancellors in history. Amidst the hurly burly of politics, Sunak has managed to keep in touch with the  the city of his birth.
"When he was appointed a Chancellor, he made it a point to visit Southampton.  Even now, after announcing his candidature for the top party post, Rishi did not forget to seek blessings at the local temple here. A week ago, on a Sunday the family had organised a small function. Rishi had visited the temple with his parents and wife. The family is very humble and down to earth," said Manju Chopra, a family friend, who resides in Southampton.
While Sunak has been consistently ahead of  Lis Truss in all the rounds so far, the battle is expected to get tough in the coming days as both the contenders  turn to their party for support.  On 19 July a YouGov poll of Conservative Party members showed that Truss would defeat Sunak, er most likely rival in the final two and seemingly the most popular candidate among both MPs and the public.
(Neena Sharma is a senior journalist presently staying at Southampton, United Kingdom)