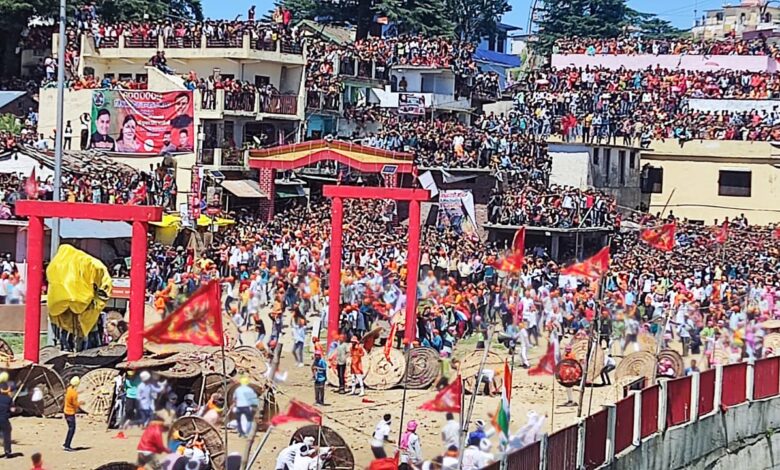 Despite court orders, stone war held at Devidhura temple, more than 200 injured in 'Bagwal'
B.D.Kasniyal
Pithoragarh, Aug 12
Despite court orders not to play the traditional ritual of 'Bagwal' with stones more than two hundreds "fighters" including 30 spectators were injured in the ceremony held at  Kholikhand ground of Barahi temple at Devidhura in Champawat district today, according to Manish Bhat, Sub-Divisional Magistrate ( SDM) and mela officer.
The traditional stone war between four local clans known as 'Bagwal', is held at temple of goddess 'Barahi' every year on the occasion of Hindu festival of 'Rakshabandhan'.
The ceremony of traditional stone war was fought with fruits and flowers for 10 minutes starting in the afternoon . The chief guest on the occasion was Uttarakhand Chief Minister  Pushkar Singh Dhami,who is local legislator also. After exchanging fruits and flowers, the fighters started pelting stones in the traditional manner injuring 200 of each other. The High court in its' ruling against stone war had held that the tradition should be continued with fruits and flowers. However, the locals resort to stones after exchanging fruits for sometime.
The traditional stone war of 'Bagwal', atBarahi temple, is held to shed blood equal to that in a man's body, to please goddess 'Barahi'." The stone war now has been converted into war by fruits and flowers following orders of honorable court and all the rituals were solemnised with vedic rituals in the traditional form except the 'Bagwal', "claimed  the SDM.
All the fighters of four clans, namely 'Gaharwal', 'Chamyal', 'Balig' and 'Lamgaria', were dressed in saffron, rosy, white and yellow colours respectively to identify their clan.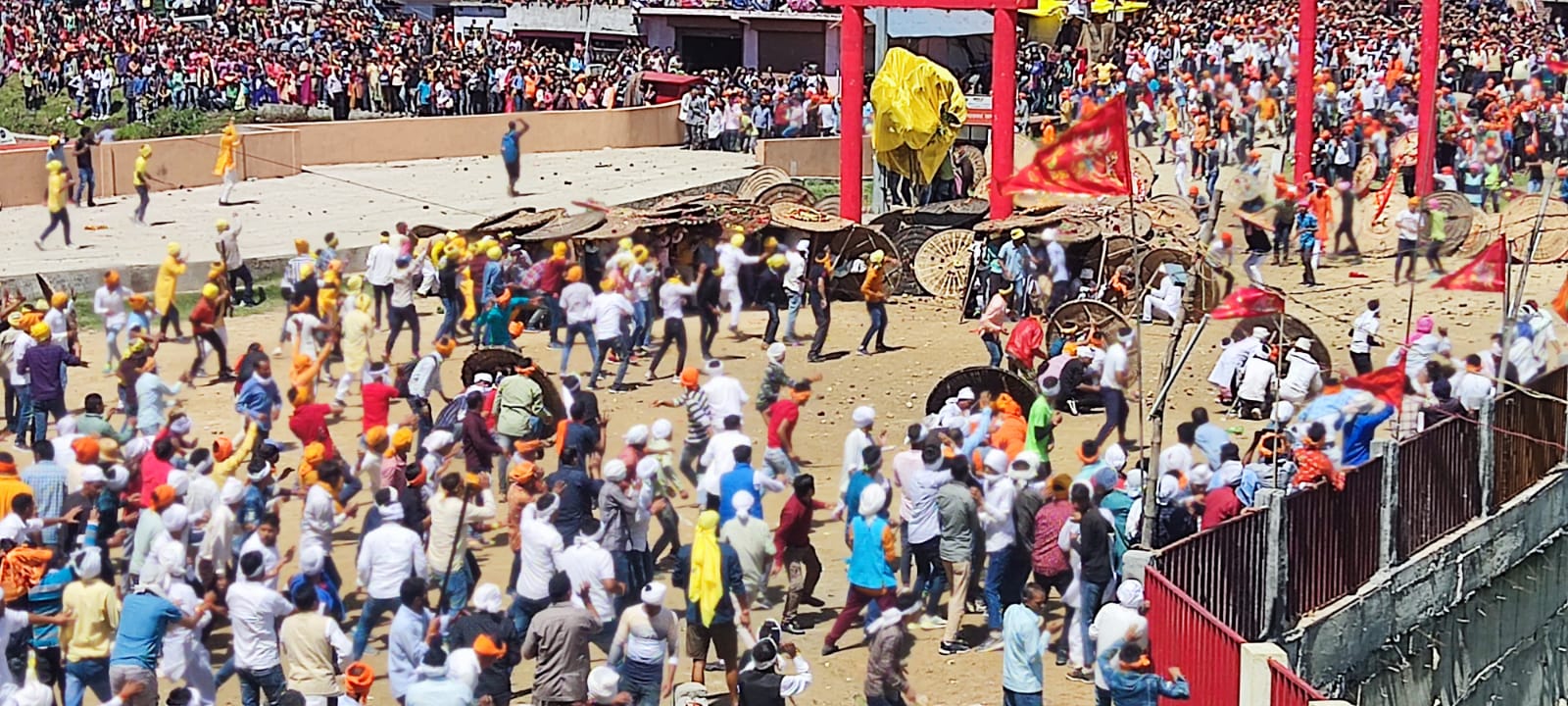 According to the Champawat CMO, Dr K K Aggarwal, a medical camp was set up at the 'Bagwal' ground to treat the injured." Before the start of 'Bagwal', a total of 52 people took part in blood donation camp and collected a total of 52 units of blood, " he said.
Later more than 200 fighters from all four clans were injured in the 'stone war' named 'Bagwal' while 30 spectators were also hit by stones. They were treated at the medical camp set up for the purpose. Three of the fighters who received serious injuries were also referred to higher medical centres from Champawat.
Uttarakhand Chief Minister Pushkar Singh Dhami took part in the traditional prayers at the 'Barahi' devi temple and prayed for the well being of the Uttarakhand state.