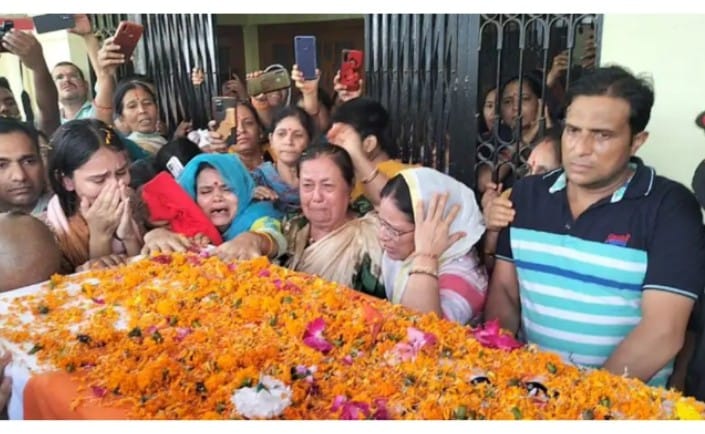 Mortal remains of soldier missing for 38 years, cremated with full military honours at Haldwani
B.D.Kasniyal
Pithoragarh, Aug 17
The mortal remains of Lance Naik, Chndrashekhar Harbola belonging to 19 Kumaon Regiment of the Indian Army were cremated with full military honours after 38 years at Haldwani where his wife and daughters are living on Wednesday. Uttarakhand Chief minister Pushkar Singh Dhami and Leader of Opposition in the state assembly Yashpal Arya were amongst senior senior civil and military officials who paid tributes to the martyr. His remains were consigned to the flames at Ranibagh crematorium with full military honours.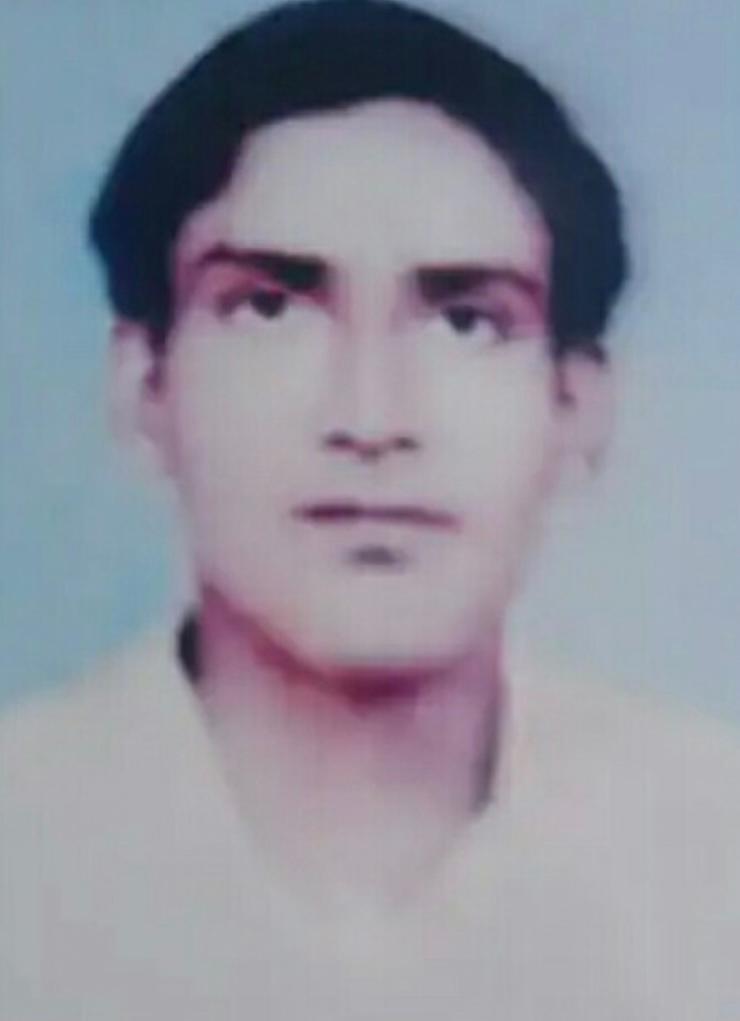 Lance  Naik  Chandrashekhar Harbola, a native of Almora district of Kumoan in Uttarakhand  went missing along with 20 of other jawans, during 'Operation Meghdoot'to capture Siachen heights in Ladhakh. The army patrol team in which he was a member was buried in a massive avalanche on May 29, 1984 on way to Shankar Top. His remains was found a few days ago by a army team and was identified from an army disc and batch which were later confirmed from army records. According to army officials, 15 of dead bodies out of 20 were recovered but that of Chandrashekhar Harbola was not found.
Recently a patrol party of Rajputana Rifles came across a shelter that looked destroyed by an avalanche. The patrol party on search found the uniform and a n army disc from the site.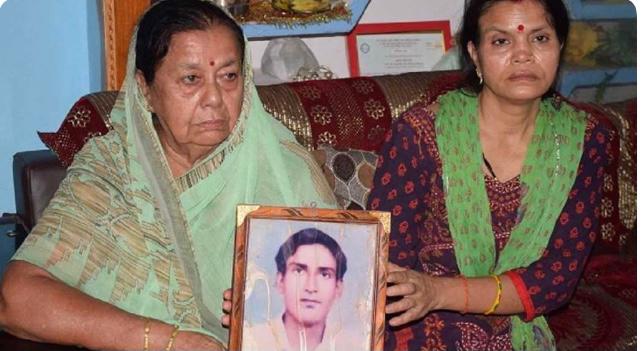 Shanti Devi, the wife of Chandrashekhar Harbola presently resides at Sarswati Vihar, Haldwani. She was married for nine years and was of 28 years of age when tragedy struck her life when her husband went missing. The eider daughter at that time was  four and the younger daughter was one and half year old. Chandrashehar Harbola, a resident fo Dwarahat in Almora district had enrolled in the army in 1975.
After arrival from Leh, the body was  kept at Army cantonment at Tikonia, and was then taken to his residence at Saraswati Vihar ," said Richa Singh ,City Magistrate of Haldwani.
The Martyrs  wife and his 2 daughters live in Saraswati Vihar colony, Haldwani.
Shanti Devi, wife of the martyr, said that her life changed fully after she received a telegram from Army in 1984 that informed of her husband been missing under a glacial slide.
"After army informed that his dead body was not recovered, we still believed  that may be he was caught  by Pakistani army and been live in some Pakistani jail," said Shanti Devi.
Shanti Devi said that she received a call from 19 Kumaon Regiment, on Saturday,(August,13,  2022.) asking her to tell the batch number of her late husband." When I, gave them his batch number, they confirmed that the  body of my husband has been found, "said Devi.
Chandrashekhar Har bola, resident of Hathipur Binta village of Dwarahat in Almora district, had joined army in 1975. After Pakistan tried to capture Siachen glacier in 1984, Government of India launched 'Operation Meghdoot' to pre-empt Pakistan from capturing the area in the month of May, 1984.  The patrolling party of 20 jawans was sent to patrol Indian territory, which was hit by a massive avalanche annihilating all 20 soldiers." The martyrs included 10 soldiers from Pithoragarh, one from Allahabad ( now Prayagraj) seven from Almora and 2 from Nainital district," said Richa Singh.
According to Haldwani SDM, Manish Singh Bisht, only 15 dead bodies cold be recovered that time after Army had launched a massage rescue campaign." Out of missing 5 bodies, 2 bodies have been recovered by army now," said SDM.
Meanwhile, the annual festivals of 'Ghee Tyar and 'Hill Jatra' have been suspended  for this year, in Bhurmuni village of Pithoragarh district, following the death of  an ITBP jawan hailing from the village,  who was killed in a road mishap in Pahalgam area of J&K on August 16..
"Dinesh Singh Bora,(31) deputed with 4th Battalion of ITBP from last 14 years was among  the 7 jawans, who lost their lives in the accident. We are expecting his body to reach the district, in one or two days time," said Dr Ashish Chauhan, District Magistrate, Pithoragarh.
All the religious programmes scheduled for the month have been cancelled  due to  death of the Jawan ." He had come home two months  ago and had promised the villagers to contribute the required amount to organise the scheduled  festivals in the village. He was very cordial towards the village society," said Lalit Dhanik, a social worker in Bhut muni village. Babita Bora, wife of deceased Dinesh Bora lives in the town with her 3 years old girl child, while his parents live in village.