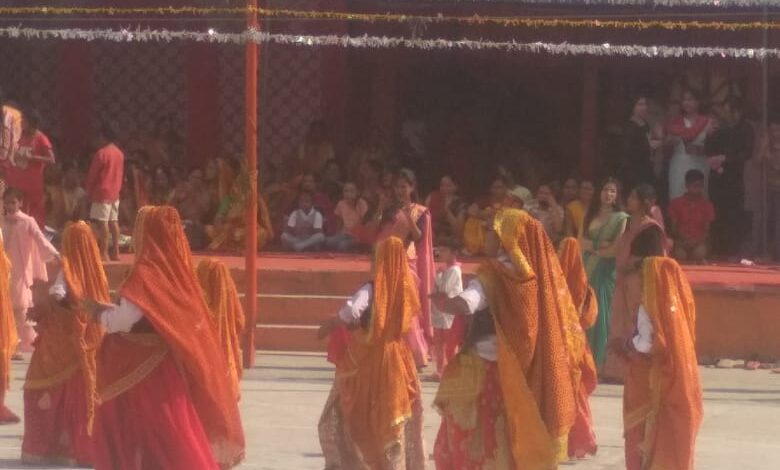 'Aathon- Saton' festival celebrated in eastern Kumoan region
B.D.Kasniyal
Pithoragarh, Aug 19
'Aathon- Saton', the festival of marriage ceremony of Lord Shiva, with Goddess Parvati, or Gaura, was celebrated in Soor valley, other parts of eastern Kumaon and in the villages along Indo-Nepal border in Champawat district of Uttarakhand on Friday.
In this festival, the village women prepare idols of Lord Shiva and Goddess Parvati, using five grasses and worship the duo with five soaked grains called 'Birura'.
"The festival, which is main festival of Soor valley region, begins from 'Panchami' day of the 'Shukla Paksh' of 'Bhadrapad' month of Hindu calendar. The married  village women soak five grains, called 'Birura', keep and fast on the day. The soaked grains are washed on the day of 'Shashthi' or sixth day  and on 'Ashtami' or eighth day, the Idols of Lord Shiva and Parvati re worshiped with soaked five grains or 'Biruras'," said Padma Datt Pant, a cultural historian of Soor valley.
According to Pant, the festival originated in far western part of Nepal thousands of years ago and reached the eastern part of Kumaon with Nepali migrants in later centuries." Besides the peculiarity of Lord shiva and Parvati are being adorned by five soaked grains, the festival gives another peculiarity when the married woman put a sacred thread, called 'Dubdhaga'," said Pant.
Ramlila Committee, Pithoragarh also organised a five days 'Aathon' festival. " We organised it with all ceremonies to give chance of worshiping Lord Shiva and Parvati  with soaked 'Biruras', to women who are now settled in town and could not take part in the celebration which takes place in their respective villages, " said Jagdish Punera, an organizer of the festival.
"The proof of Parvati or Gaura worship is also find mention the 'Purans', in 13th and 24th chapter of 'Devi Bhagwat' where it is mentioned that women of Bhrigu dynasty used to worship Goddess Gaura, " said P.D. Pant.
In folk traditional of Kumaon region, the Gaura is considered a village girl, married off to Lord Shiva far off in tough Himalayan region."Goddess Gaura comes to her father's home like all married girls of hill villages who used to come to their father's home in this month crossing tough terrains in bygone era."Goddess Gaura, as a village girl is welcomed by every house hold by celebrating a festival with  preparation of special dishes and new clothes made for the occasion," said Pant.