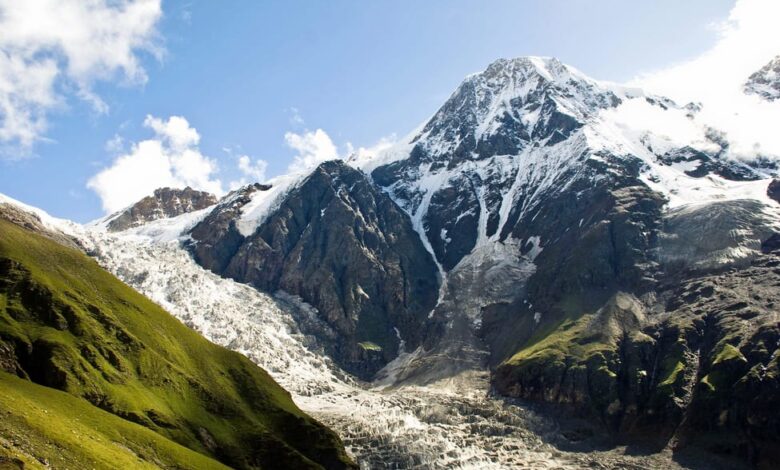 Pindari Glacier to be 'Trek of the year for 2022
Prem Prakash  Upadhyay 'Natural'
Bageshwar, Aug 19
The Uttarakhand state government has declared the Pindari trekking route as "Track of the Year". The state government will invite  tourist, climbers ,adventurers and naturalist  to trek the route in the month of October this year with an aim to popularise the trekking destination which is well known. It would in turn result in  improvement of local of economy and also boost employment.
Pindari Glacier located near the Nanda Devi peak in the Kumaon Himalayas. The Pindar River begins at its feet, which is a major tributary of the Alaknanda River. It was G.W. Trail, the first British Commissioner of Kumaon and Garhwal,  who first  climbed the Pindari Glacier in 1830. He crossed the pass (now trail pass) at an altitude of 17700 feet from Wol Pindari Glacier and reached the village of Martoli in Milam Valley.
As per state government plan, nearly 100 trekkers of the country and the state will be tracking Pindari Glacier in October. Bageshwar District Magistrate Reena Joshi at a meeting held recently at the district headquarters  instructed executive engineer  Sanjay Pandey of PWD  Kapkot division to start the work of repairing the track route at the earliest. She informed  that an amount of Rs. 27 lakhs to repair the tracking route, has been released to the Kapkot division of PWD from the district plan.
In the meeting, Additional Executive Officer Adventure Tourism Uttarakhand Ashwin Pundir, who was connected through virtual medium, requested the DM to provide security arrangements for Pindari trekking, deployment of SDRF and arrange health facilities. The DM said that full co operation will be given during the trekking.
She said that a unit of State Disaster Response Force (SDRF)  is stationed in Kapkot while police, medical arrangements and satellite phones will be made available during the trekking. She sked the Additional Executive Officer Adventure Tourism to promote Pindari trekking through various means. Apart from surveying the marked places of Kapkot, the local people were asked to get training in paragliding, rock climbing and as  tourist guides. CDO Sanjay Singh, DFO Himanshu Bagri, Kapkot SDM Paritosh Verma, ACMO Dr. NS Tolia, District Tourism Officer Kirti Arya were present in the meeting.
Pindari trekking route has not been repaired since the deluge of 2013. Even after ten years, the PWD Division of Kapkot has not been able to make the route worthwhile for trekking activities. A new  suspension bridge has been constructed in Dwali in place of the damaged suspension bridge. The trekking routes are in very poor condition in many places including Dwali.