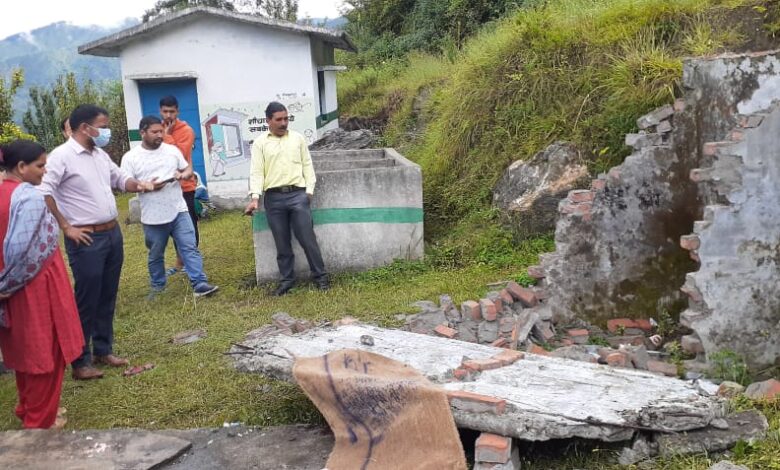 Dilapidated school buildings posing danger to lives of school students in hills, as one student died after roof collapse in Champawat district
B.D.Kasniyal
Pithoragarh, Sept 15
"The State government is unaware of the actual ground situations of the government schools buildings especially in rural  and interior areas of the state due to utter negligent  and callous attitude and if the government does not act immediately, there is every likelihood of repeat of such accidents in the dilapidated school buildings in future," said Sangeeta Sharma, a spokesperson of AAP in Champawat district. Sangeeta was commenting on the incident of a school in Pati block of Champawat district where an 8 year old student died due to collapse of a dilapidated toilet structure on him. Three other school students were injured in the incident.
Uttarakhand Chief Minister Pushkar Singh Dhami has ordered a magisterial inquiry into the incident and compensation of Rs. Five lakh to the family of the deceased student.
Out of total 690 schools in the district, 51 schools have been identified as sensitive category."These schools either are having dilapidated roofs, structure or situated on the banks of rivers or landslide prone areas. We have received a sum of Rs.3.33 crore to repair these and work is going on," said Jitendra Saxena, Chief Education Officer, Champawat.
"But the accidents are occurring due to negligent attitude of officers and unwilling government to improve education infrastructure in the district," said Shyam Singh, a parent in Maunkanda village.
The  villagers said that the villagers were demanding demolition of that dilapidated toilet from 2014." We have been demanding demolition of the dilapidated toilet structure since 2014 and construction of a new toilet in the ill-fated school, "said Shyam Singh.
According to the parents of the students, the incident occurred when the students reached the roof while playing, and the roof came down with their weight.
" While several of us jumped from roof after it started shaking but Chandan could not save him when the roof fell on him,." said Hasina, an injured student of 3rd class in the school.
Meanwhile, state education secretary Raviram Raman has ordered to demolish the dilapidated buildings of  800 schools in the state.
"Not only the government schools are having sensitive locations but also over 70000 students in the district are facing problems due to lack of furniture, electricity connection and drinking water in these schools," said Sangeeta Sharma.
Not only in Champawat but in Pithoragarh district also, the government school buildings are in shambles." We have over 178 government schools, out of these over 132 schools have not been repaired for long. The students of 32 schools, have been shifted to other nearby schools," .said A.K. Jukaria, Chief  Education Officer of Pithoragarh district.