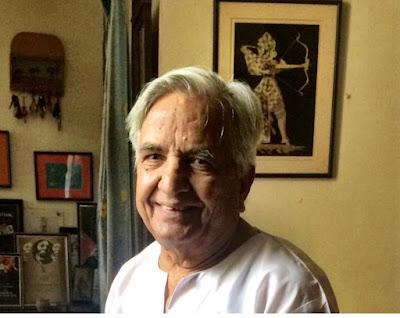 Shekhar Joshi, a literary giant and son of soil remembered in his native Kumaon
B.D.Kasniyal
Pithoragarh, Oct 7
Shekhar joshi, highly venerated Hindi litterateur hailing from Kumaon region of Uttarakhand , who passed away on October 4, 2022, was given an emotional adieu by lovers of his stories and literature across the towns of Almora, Nainital, Bageshwar and Pithoragarh during the past week.
"Shekhar Joshi, who lived a  span of 90 years of life, was a product of struggle of a highlander (Pahari) boy, who struggled a lot materially and emotionally after his  mother died, when he was 10 years old and had to leave his ancestral home in the hills to live with his material uncle at Kakri in Rajasthan to continue his education," said Govind Kaphalia, a social worker and CPM leader in Pithoragarh.
Born in Oliagaon of Someshwar sub-division of Almora district on September 10, 1932, Shekhar Joshi had to leave his village at the age of 10 to continue his education.
"His best known Hindi stories, 'Dajyu',(elder brother) and 'Kosi ka Ghatwar' (the contractor of watermill at river Kosi) are reflection of that pain of migration and lack of motherhood of a emotionally introvert highlander boy," said Pratul Joshi, his elder son and former employee of all India Radio (AIR).
After publication of 'Kosi ka Ghatwar' and 'Dajyu' stories, he became well known in Hindi literary circles. Later, when he started his job with EME workshop of Indian Army in Allahabad (now Prayagraj) he came in touch with progressive writers association members and  his vision towards common men's struggle became sharp.
" His stories like 'Badbu', 'Ustad', 'Ashirvad', 'Bajrangi Beemar hai', were product of  sensitivity towards workers, he used to work amongst in EME workshop. Had he not adopted that service, these stories reflecting the pain of workers and their day to struggle, would not have come to light through his stories," said Pratul Joshi.
Shekhar Joshi had become a strong pillar of Progressive Writers Association of Allahabad by the year 1955, along with working with the painters, electricians, ironsmith and other common workers in his workshop."Not only the old generation progressive Hindi writers like, Bhagwat Sharan Upadhayay, Nagaarjun, Sripat Rai, Amrit Rai Ashak, and Shamsher Bahadur Singh, used to come to our home but the then new generation progressive writers, like, Kamleshwar, Dushyat Kumar Aihtesham and Dr Aijaz Husain also were in close touch with my father," said Pratul Joshi.
Most of his stories were also translated in foreign languages and also in South Indian languages.
"Besides  the deep pains of of early migration from  his native place to a new situation of Rajasthan in Kakri, the situation of Second World War, when young highlander youths, who were going to the war front leaving their family members seen weeping at bus stations, also made a 10 years old youth feel about his native land," said Vineeta Yashasvi, an editor with Nainital Samachar, a Hindi fortnightly magazine published from Nainital.
According to lovers of his literature, the entire literary gamut of Shekhar Joshi was either influenced by his migration pains, common man's struggle in hill life and pains of those youths who are force to leave their parents, villages, early in their lives in search of livlihood.
" Besides this gamut, he also wrote stories those reflected routine struggles of common labourers working in workshops and other work places." After retirement and especially after the year 2015, he devoted his time in writing poems, memories and articles for publications of Kumaoni language, specially small publications," said his elder son.