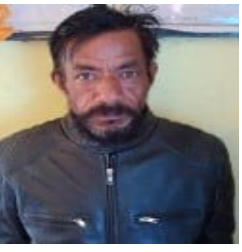 Poor villager sells his farm land to donate money for village school
Prem Prakash Upadhyay  'Natural'
Bageshwar. Jan 2
A goat and sheep grazer who himself could not study beyond class two has sold his land to donate money for the improvement of the village school where his own daughter is studying in seventh class.
Ishwari Lal Sah of Karuli village who studied up to class two, sold his small land to improve the tomorrow of school children and donated a sum of Rs 2.5 lakh to the school.
Ishwari Lal Sah who is a sheep and goat grazer and also works as a labourer used to visit the school with his goats. He was not happy with the infrastructure of the Junior High School Karuli, where he saw students playing on a rough path of land and school without a boundary wall.
Determined to provide better education to his daughter and other village children, Ishwari Lal Sah sold his only small piece of land to build a ground and boundary wall of the school. A sum of Rs.2.5 lakh which he received as payment for his land was donated by him with the school authorities.
Knowing that his donation is small, he said that it was all he could do for the village school The ground and boundary wall will now be constructed in the school with the amount donated by them.
The school is already in discussion in the state for the excellent calligraphy of the students. Now this effort of 58-year-old Ishwari Lal Sah may see this school as an example for other donors in the state.
"  Ishwari Lal Sah has set an example for his selfless effort for the future generations  and the money donated by him would be put to good use," said Narendra Giri Goswami, Principal of the school.
"Ishwari Lal Sah has done a commendable job. Earlier, also an old student had also helped for the development work of Amsyari Vidyalaya. We hope that other people will also come forward for such noble work in future," hoped G.S. Soun, Chief Education Officer (CEO), Bageshwar.