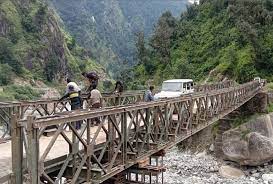 Defence Minister to inaugurate 28 strategic projects on Jan 3
B.D.Kasniyal
Pithoragarh, Jan 1
Defence Minister Rajnath Singh is going inaugurate 28 new strategically significant infra-  structure projects on the borders of the country on January 3, 2023, built by Border Roads Organisation (BRO), the country's prime border roads construction agency,
The minister has already dedicated to the nation a total of 103 infrastructures projects constructed at a cost of Rs. 2897 crores on the borders in the year 2022,  a press release of the BRO  said. The BRO has dedicated a total 102 projects worth Rs. 2229 crore at the borders in the year 2021.
"Out of these projects, commissioned in the year 2022,  four border projects, are in Union territory of J&K, 8 in union territory of Ladhakh, 3 in Uttarakhand, 2 in Rajasthan and 3 in Punjab," said Vimal Goswami, Chief Engineer of 'Hirak' project of BRO.
According to Goswami, these projects include, 5 bridges of various span on 14000 feet high Darbuk-Shyok- DBO road in eastern Ladakh at Indo-China border.
"The 28 projects, to be dedicated to the nation on January 3, 2023, include, 22 bridges, 3 roads and 3 other miscellaneous projects. "These projects, that were to be dedicated to nation on December 27, by Defence minister, will now he dedicated by him on January 3, 2023 as the minister was busy  on that day," said the BRO officer.
According to the BRO press release, the Defence Minister will also inaugurate three   "Telemedicine Nodes"  including one in remote location of Ladhakh. These Telecommunication nodes will connect the remote detachments through VSAT to service hospitals."It will provide prompt medicinal intervention for medical and surgical emergencies through telemedine consultations with specialists at service hospitals using SATCOM VSAT communication," said the Chief Engineer of Hirak project as per the press release issued by BRO.